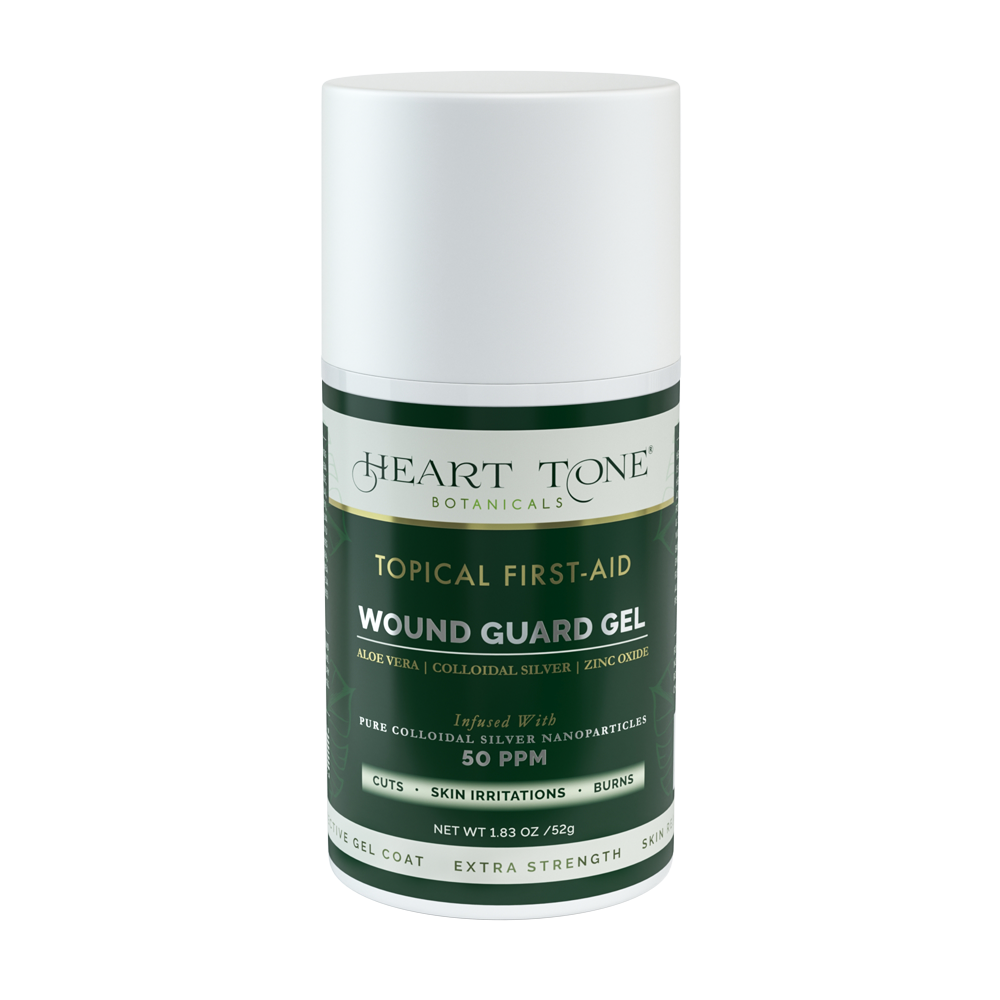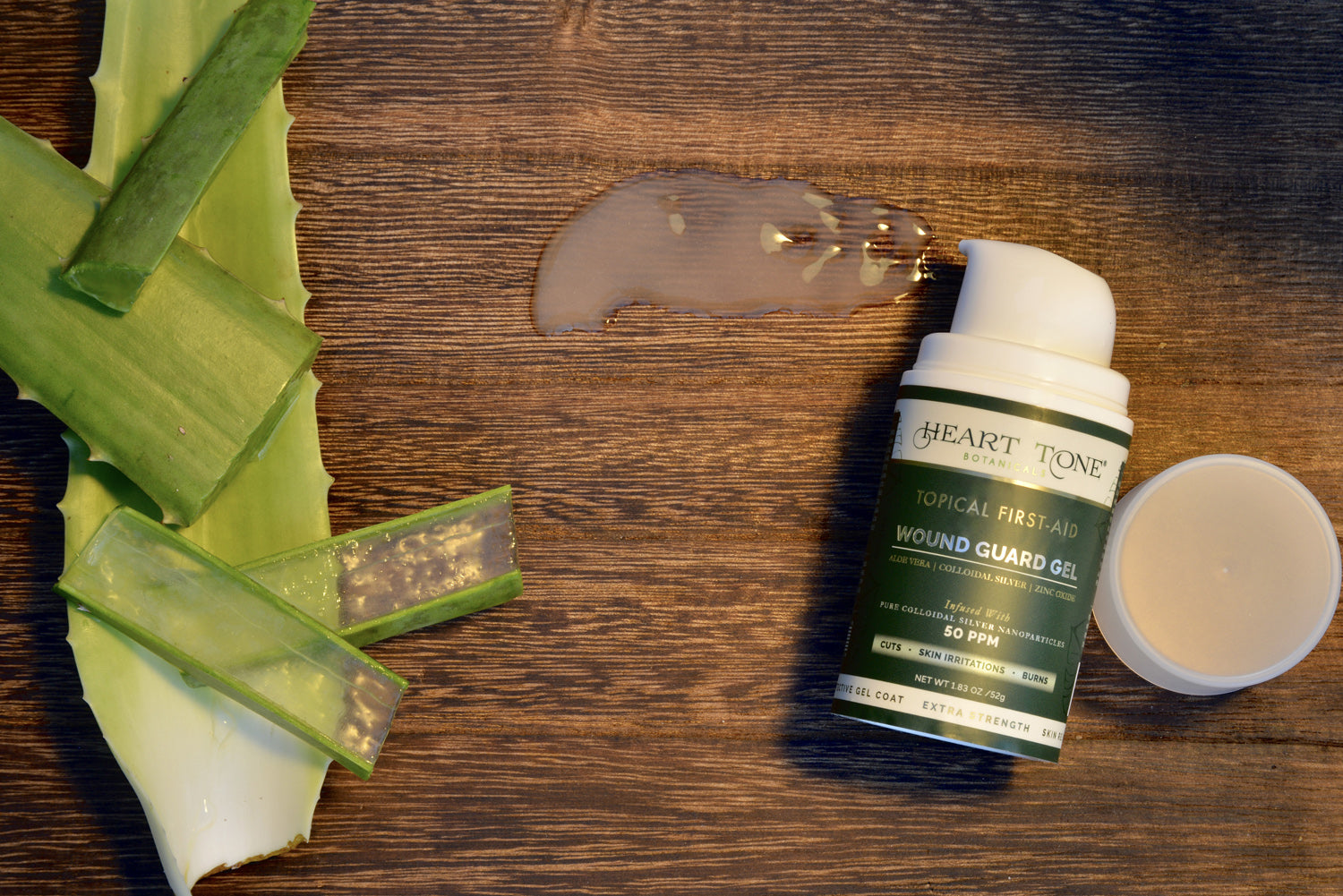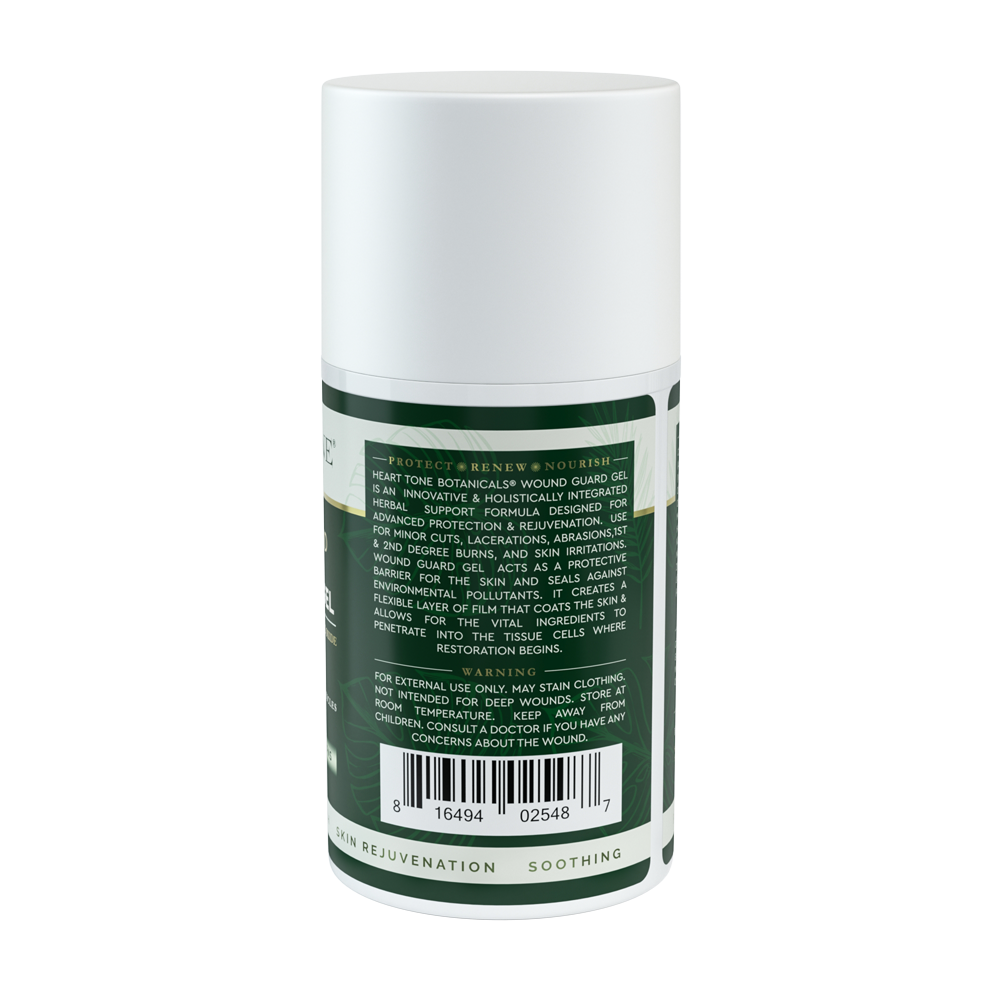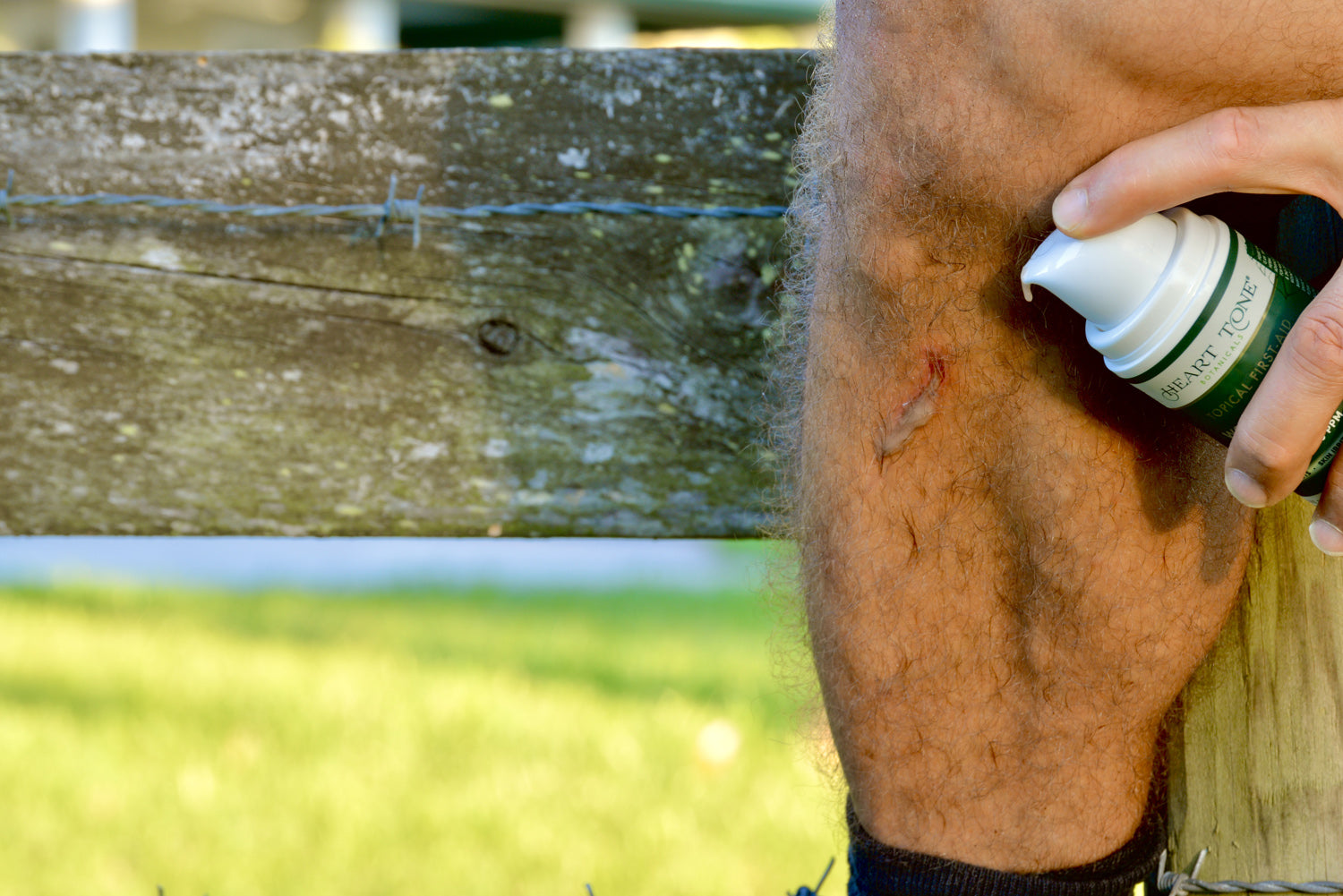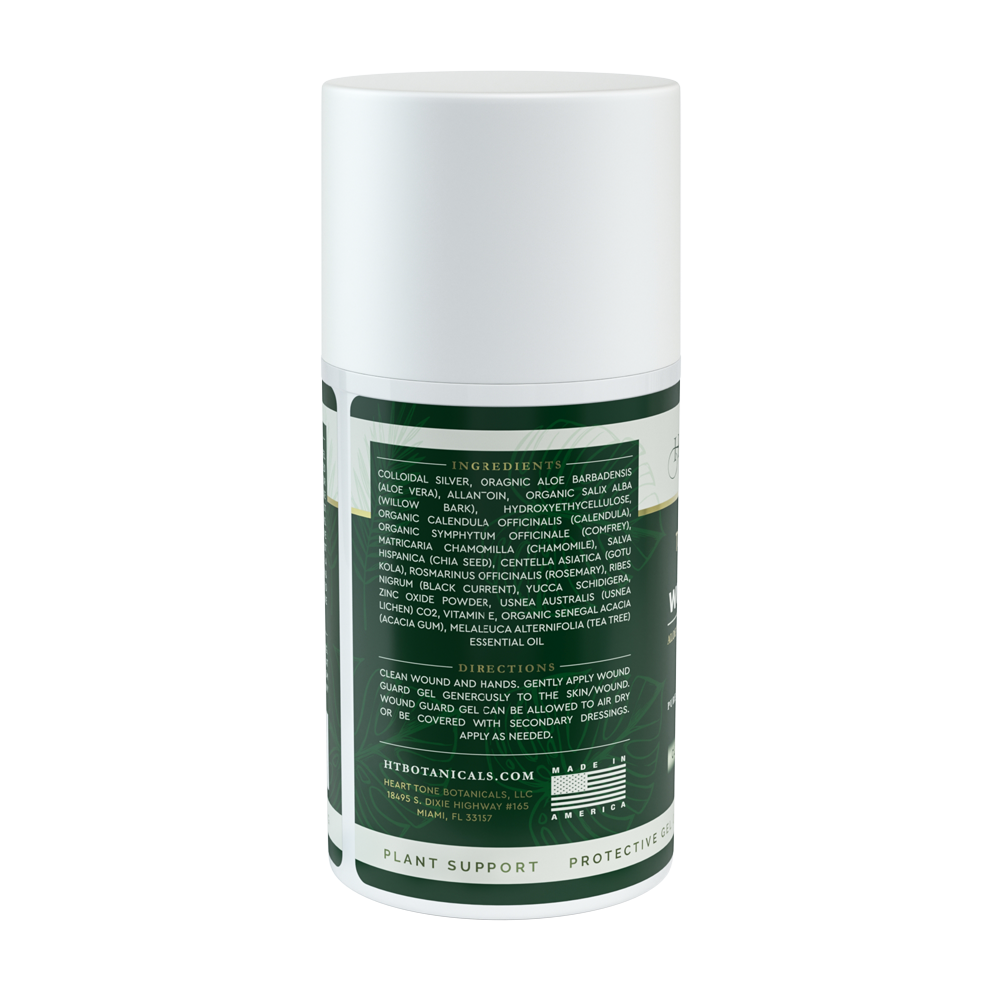 Wound Guard Gel
---
Don't just cover wounds, restore them
This activated wound defense shield provides gel protection barrier.
Creates an innovative flexible shield that protects & restores wounds while still allowing oxygen to permeate through the barrier. Infused with 50 PPM Colloidal Silver, Zinc oxide, 9 botanical extracts, our farm-grown aloe vera, willow bark, vitamin E, & allantoin. PH balanced for a Non-Stinging formula.


COLLOIDAL SILVER, ORGANIC ALOE BARBADENSIS (ALOE VERA), ALLANTOIN, ORGANIC SALIX ALBA (WILLOW BARK), HYDROXYETHYCELLULOSE, ORGANIC CALENDULA OFFICINALIS (CALENDULA), ORGANIC SYMPHYTUM OFFICINALE (COMFREY), MATRICARIA CHAMOMILLA (CHAMOMILE), SALVA HISPANICA (CHIA SEED), CENTELLA ASIATICA (GOTU KOLA), ROSMARINUS OFFICINALIS (ROSEMARY), RIBES NIGRUM (BLACK CURRANT), YUCCA SCHIDIGERA, ZINC OXIDE POWDER, USNEA AUSTRALIS (USNEA LICHEN) CO2, VITAMIN E, ORGANIC SENEGAL ACACIA (ACACIA GUM), MELALEUCA ALTERNIFOLIA (TEA TREE)
ESSENTIAL OIL
Our all natural wound guard gel is perfect for keeping around the house, the car, or anywhere that accidents can occur. Let our wound guard gel be your first aid defense when it comes to tending to minor wounds, scratches, burns, insect bites, abrasions, or cuts. Designed to protect and seal the wound while the powerful botanicals and soothing aloe get to work on fast wound recovery. Apply a small amount to the skin and allow to dry.
Q: <b>Does Wound Guard Gel really seal my wounds?</b><br/><br/>
A: Absolutely! When you apply a thin layer on top of your wound & allow the gel to dry, it will set, seal, & become a translucent flexible film that gently grips your skin. Depending where the wound is on your body, you may need to reapply if area is exposed to excessive rubbing or moisture.
<br><br>
Q:<b> Will Wound Guard Gel help with bug bites?</b><br/><br/>
A: Living near the Florida Everglades we get our fair share of biting insects & this is our go to for fast relief from the itch of mosquito, red ant, and noseeum bites.
<br><br>
Q: <b>Can I apply a bandage over the gel?</b><br/><br/>
A: Yes you can. Wound Guard Gel is formulated for either wet or dry use. If you prefer a wet use application then simply place a bandage or band-aid of your choice over the wound after applying the gel. Wound Guard Gel will immediately go to work on promoting healing even under the dressing.<br><br>
Q: <b>Can I use the gel in my mouth or internally?</b><br/><br/>
A: No. Wound Guard Gel is strictly designed for external use only. Do not apply the gel in any orifice, eyes, sensitive areas, or oral cavity.
<br><br>
Q: <b>Is this pet friendly?</b><br/><br/>
A: We've successfully used Wound Guard Gel on all our dogs and chickens. Although, we do not suggest usage on cats due to their sensitive metabolisms. When applying to dogs, be sure to wrap the wound up well in order to prevent wound licking.
<br><br>
Q: <b>Is the gel effective for knife stabs, gun shots, or other deep wounds?</b><br/><br/>
A: We hope you can avoid any and all serious injuries although, should you experience any unfortunately, Wound Guard Gel is not designed for any life threatening, serious, or deep wounds. We suggest seeking immediate medical attention!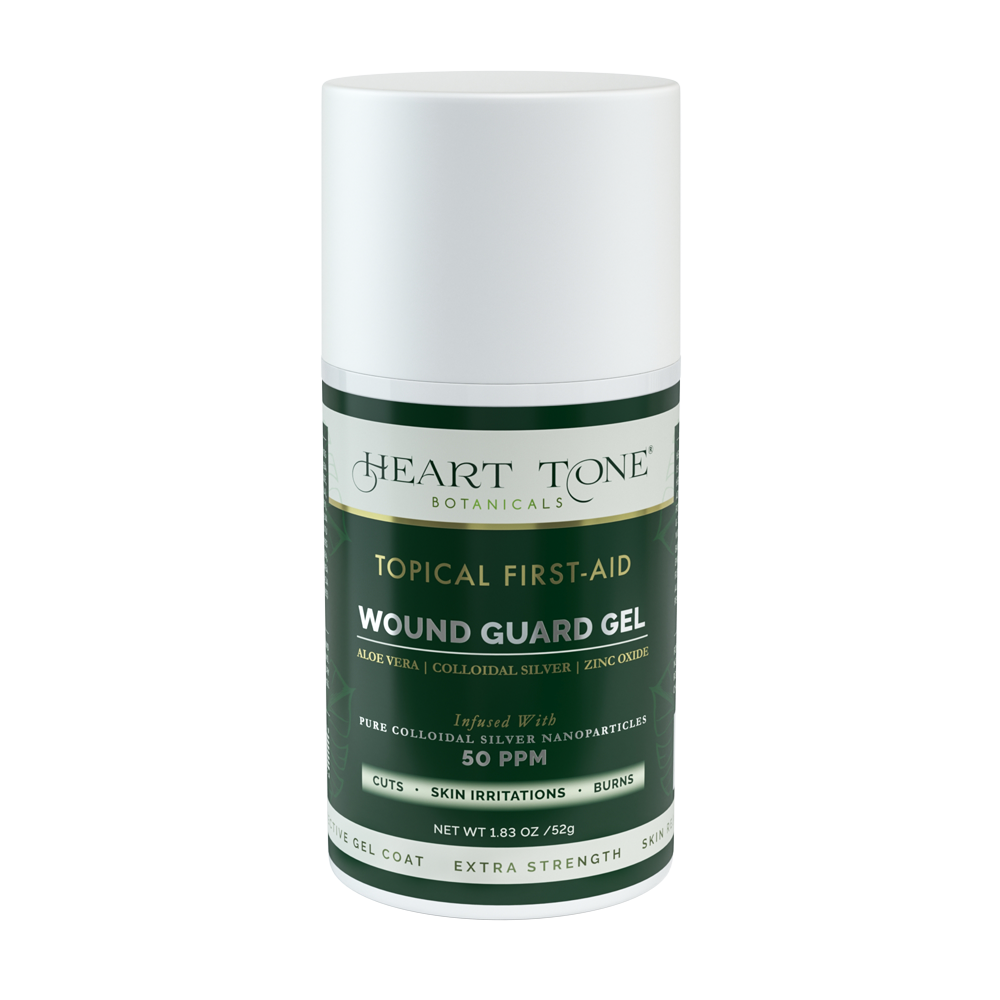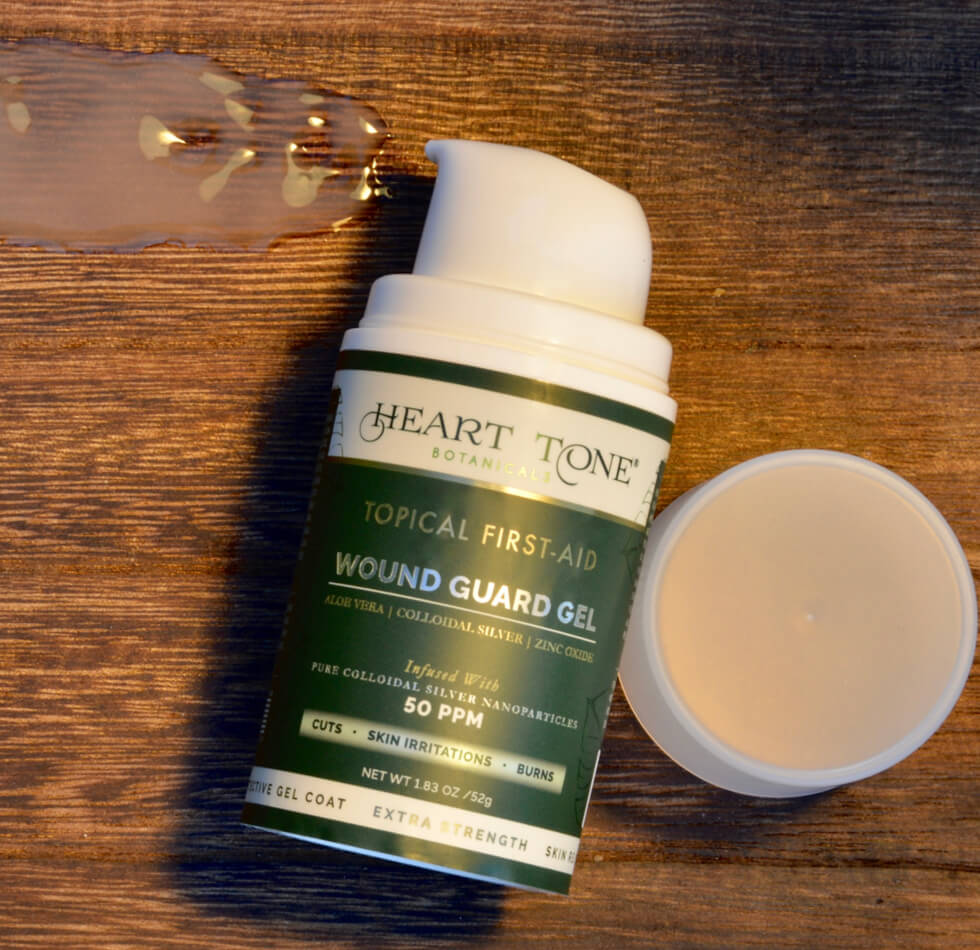 THE FIRST LINE OF DEFENSE IN WOUND CARE
The first line of defense in wound care. Natural Wound Guard Gel can be applied directly to wounds, a perfect topical solution for a wide variety of skin type's. Wound Guard Gel protects and seals wounds naturally by creating an invisible, flexible, and sealed environment that keeps dirt and debris out. This activated natural Wound Guard Gel provides restoration through 9 powerful botanical extracts that aid in recovery and wound rejuvenation. Infused with 50 Parts Per Million 99.9% Pure Colloidal Nano Silver. This topical all natural Wound Guard Gel comes in an easy to dispense airless pump bottle which is perfect for stocking in first-aid kits, emergency supplies, medicine cabinets, bug out bags or travel packs. Be comfortable and at ease with this non greasy no sting formula and be prepared to treat skin irritations and wounds with a natural solution when and where they occur.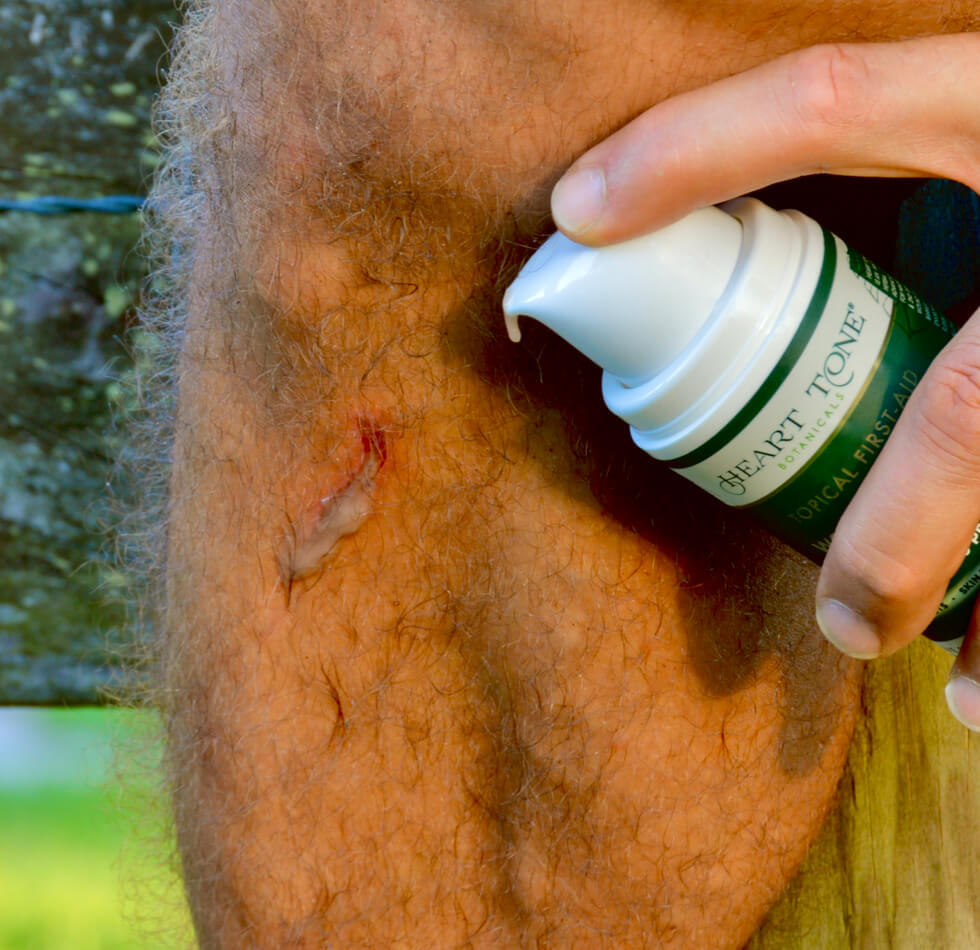 BENEFITS OF NATURAL WOUND GEL 
9 POWERFUL HEALING BOTANICAL EXTRACTS Wound Guard Gel uses all natural plant extracts to aid in recovery and wound rejuvenation. Aloe vera, willow bark, tea tree calendula, comfrey, chamomile, rosemary and more help to nourish and treat affected areas.
EFFECTIVE FIRST AID/EMERGENCY. Wound Guard Gel is a all in one topical gel that helps to naturally protect, renew, soften, sooth and rejuvenate skin. Use on burns, scrapes, abrasions, minor irritations, bug bites, painful skin, rash, sores, wounds and more.
INNOVATIVE INVISIBLE BARRIER. Wound Guard Gel protects and seals wounds naturally by creating an invisible, flexible, and sealed environment for your skin to keep out dirt and debris. 
SAFE AND EFFECTIVE FOR THE WHOLE FAMILY Wound Guard Gel is formulated for the whole family even pets! Our wound care product is intended to soothe skin, support surrounding tissue and promote natural restoration for all skin types. 
NON-STINGING NON GREASY FORMULA Wound Guard Gel Works with the natural pH of the skin for an optimal healing environment which boosts the ointment action and does not sting. A water based formula leaves no greasy residue behind. 
ON THE GO AND EASY-TO-DISPENSE AIRLESS PUMP BOTTLE Wound Guard Gel comes in a convenient easy to use hygienic airless pump designed to restrict exposure to air, prevent oxidation, deterioration and accidental contamination. Perfect for first-aid kits, emergency supplies, medicine cabinets, bug out bags or travel packs. Be prepared to treat skin irritations and wounds as they arise with a natural solution.
• STIMULATES RESTORATION 
• CALMS INFLAMED SKIN 
• SKIN REJUVENATION 
• ACTIVE BOTANICALS 
• PROTECTS WOUNDS 
• EXTRA STRENGTH 
• NON STINGING 
• GEL BARRIER  
USES
BUG BITES 
SKIN IRRITATION 
BURNS 
MINOR CUTS & SCRAPES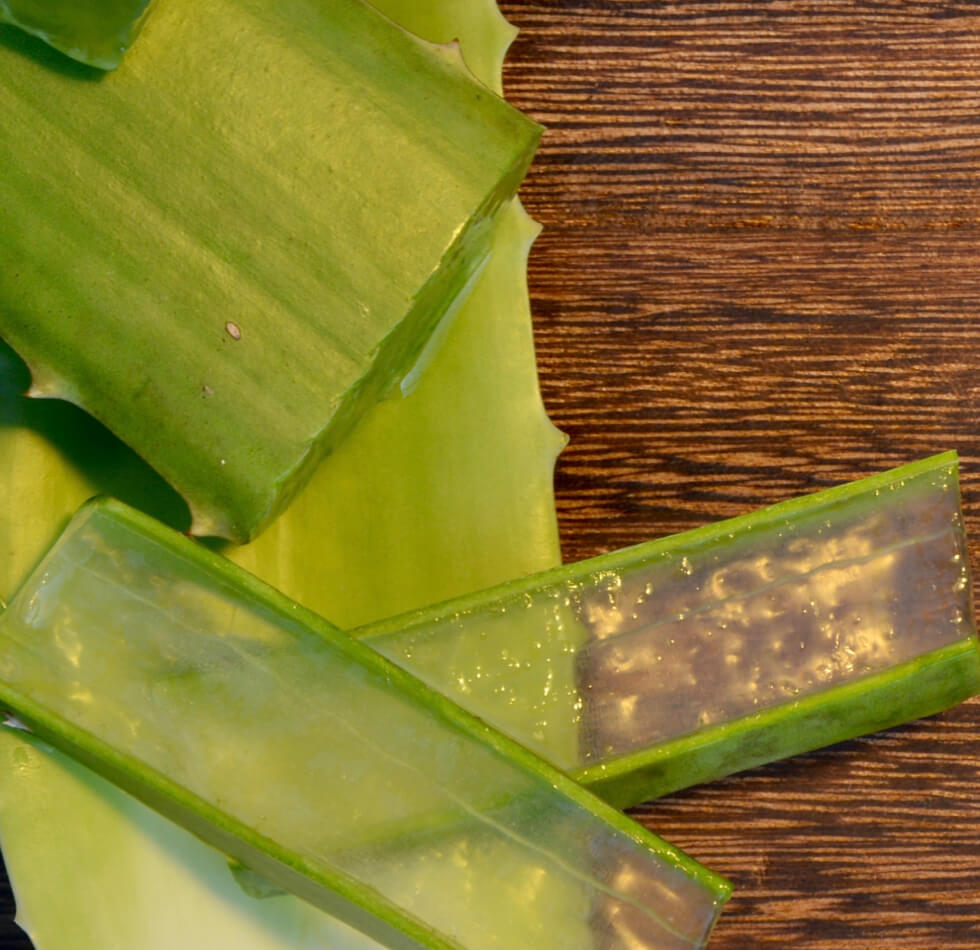 THE HEALING TOUCH OF ALOE 
We use our very own aloe grown on our farm without the use of any conventional chemical agents. Our Regenerative Agriculture Methods ensures maximum bioavailability of plant nutrients & beneficial compounds. 
• PROMOTES CELL REGENERATION
• HELPS WITH INFLAMMATION
• SOOTHES IRRITATION
• SPEEDS UP RECOVERY
• AIDS CIRCULATION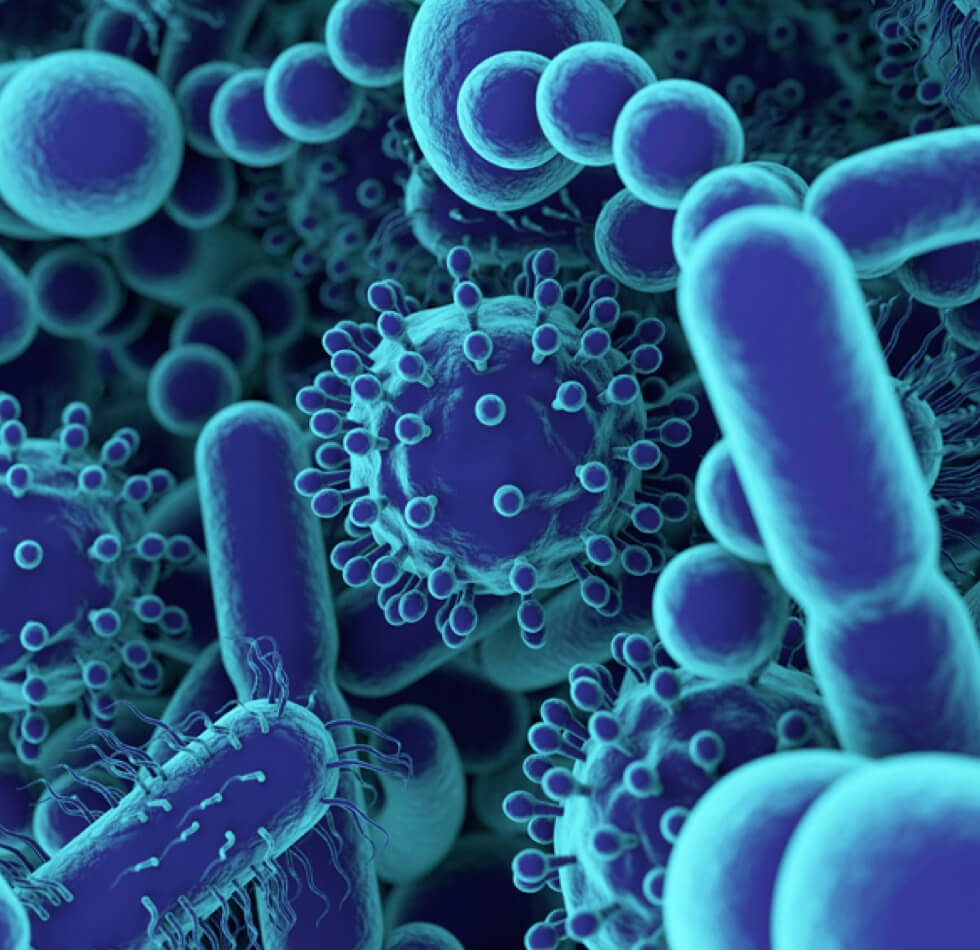 Infused With 
THE SILVER BULLET 
50 PARTS PER MILLION 99.9% PURE NANO SILVER
Wound Guard Gel uses electronically charged micro silver particles suspended in pure distilled water to harmonize the micro-biotic environment.
Silver has been used medicinally throughout antiquity for more than 2,000 years. Ancient civilizations learned that silver possessed powerful preservative like effects and would store wine & water in silver vessels to prevent spoilage. 
Hippocrates, the "father of medicine," wrote in his medical texts that silver had many beneficial medicinal properties, and he praised silver for its abilities.