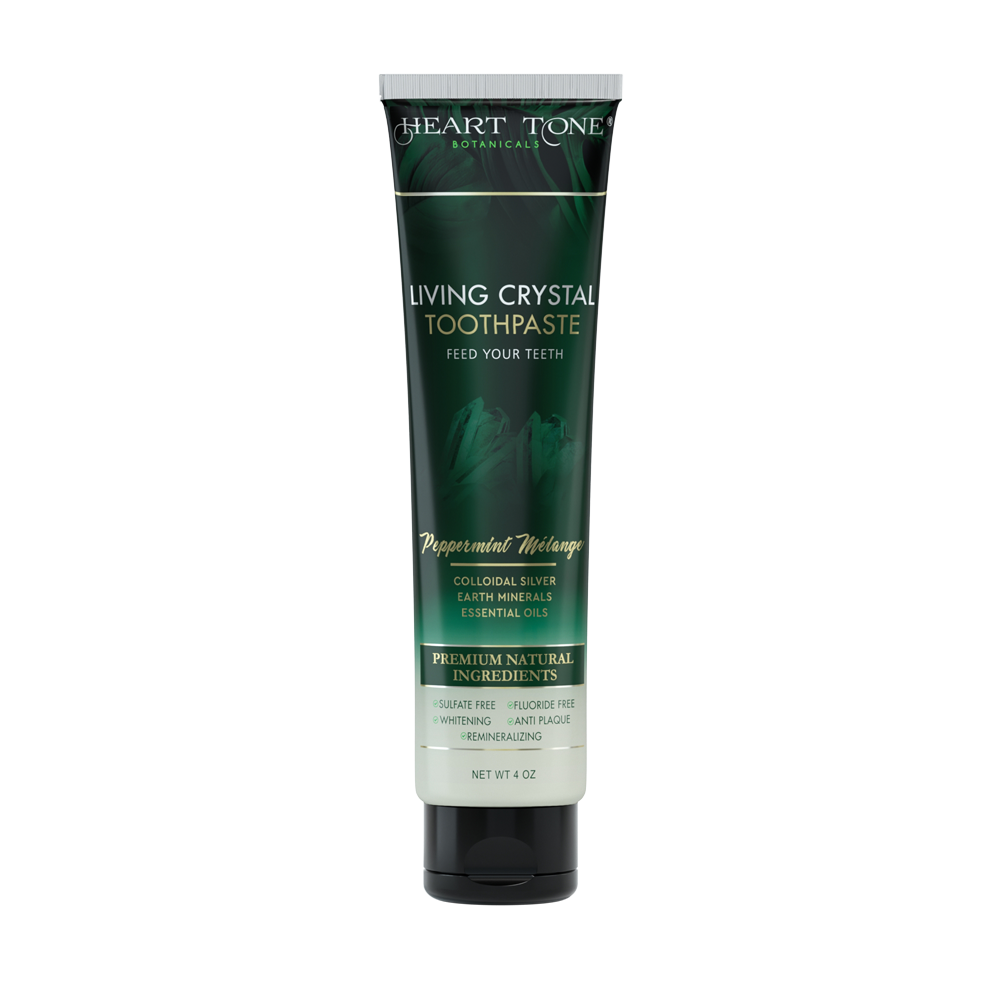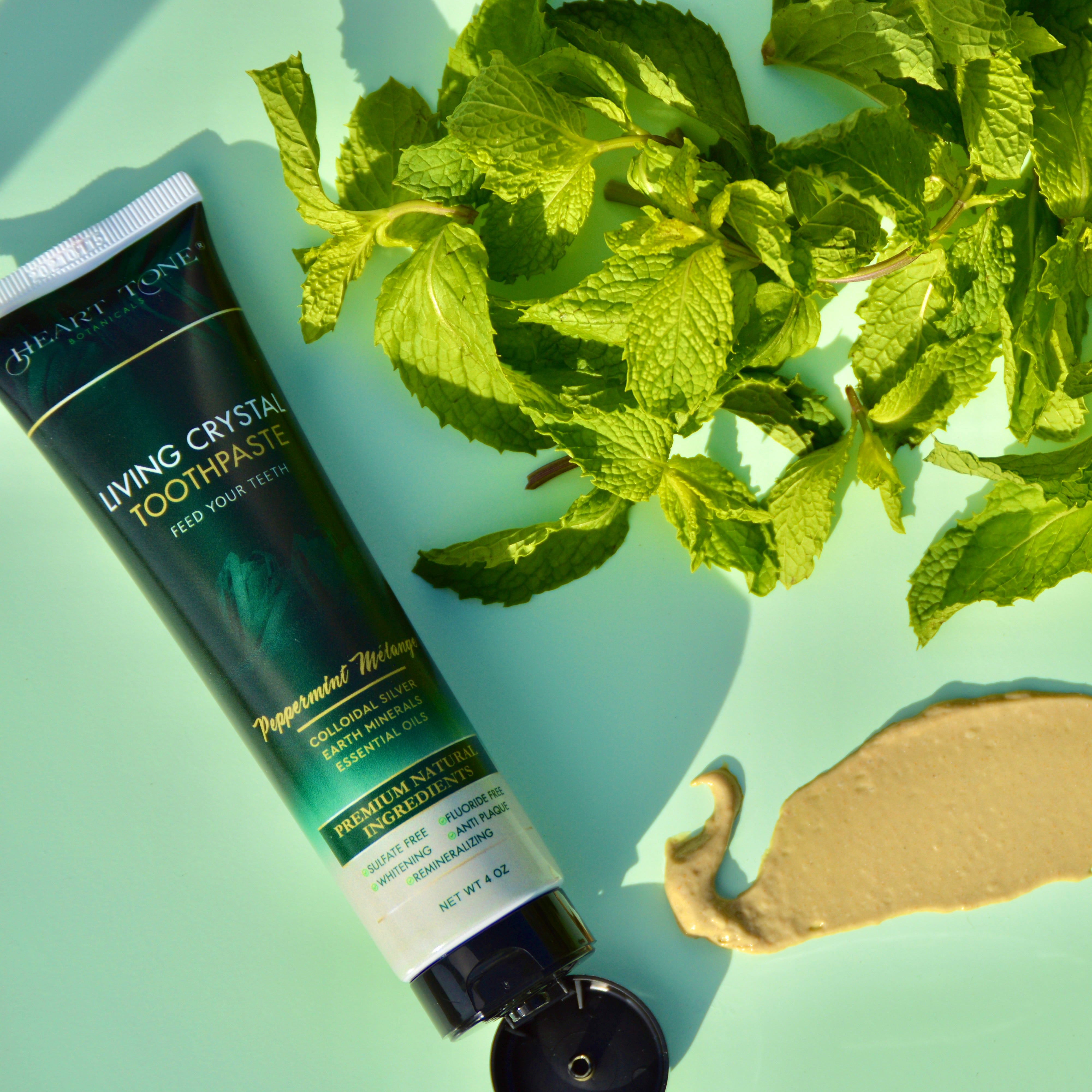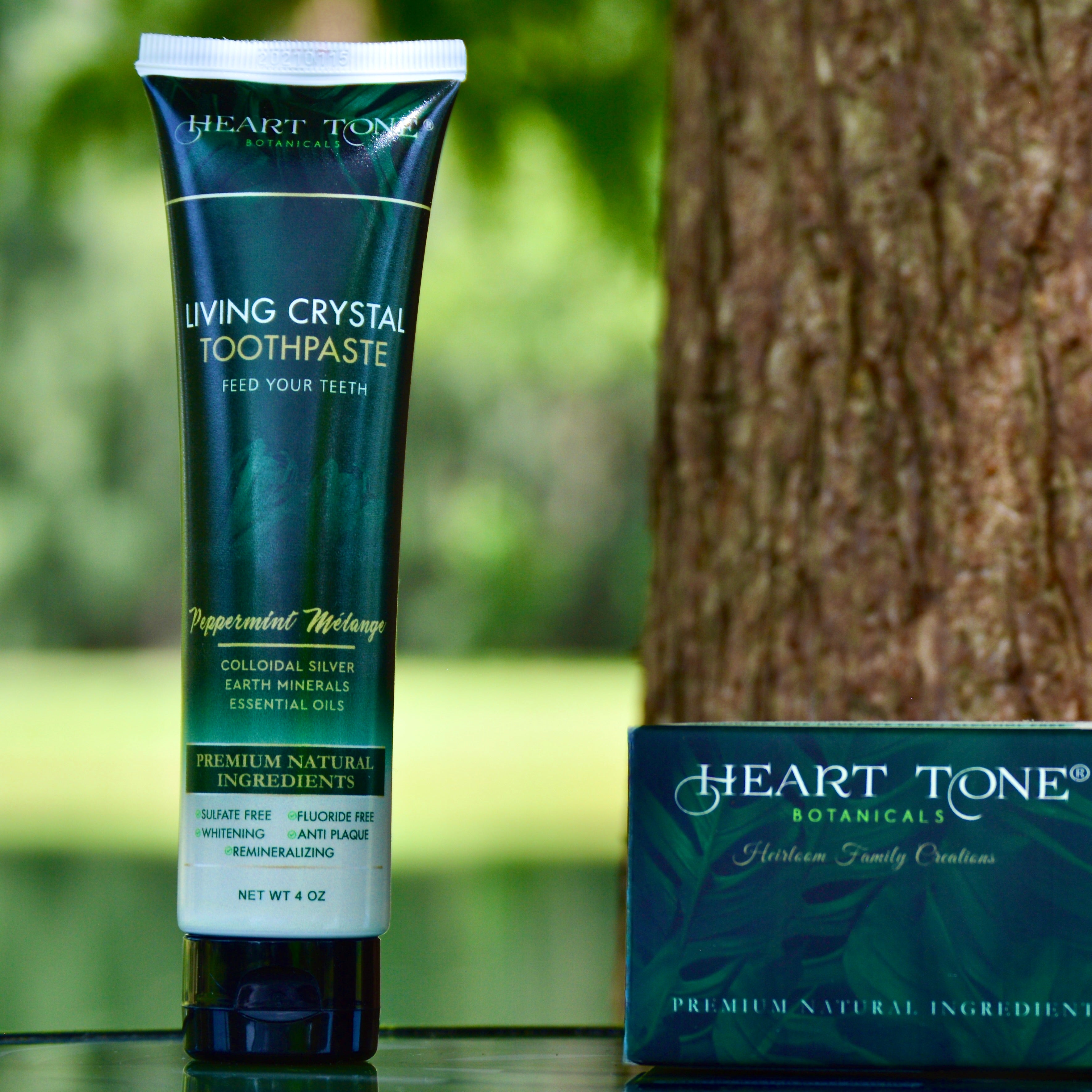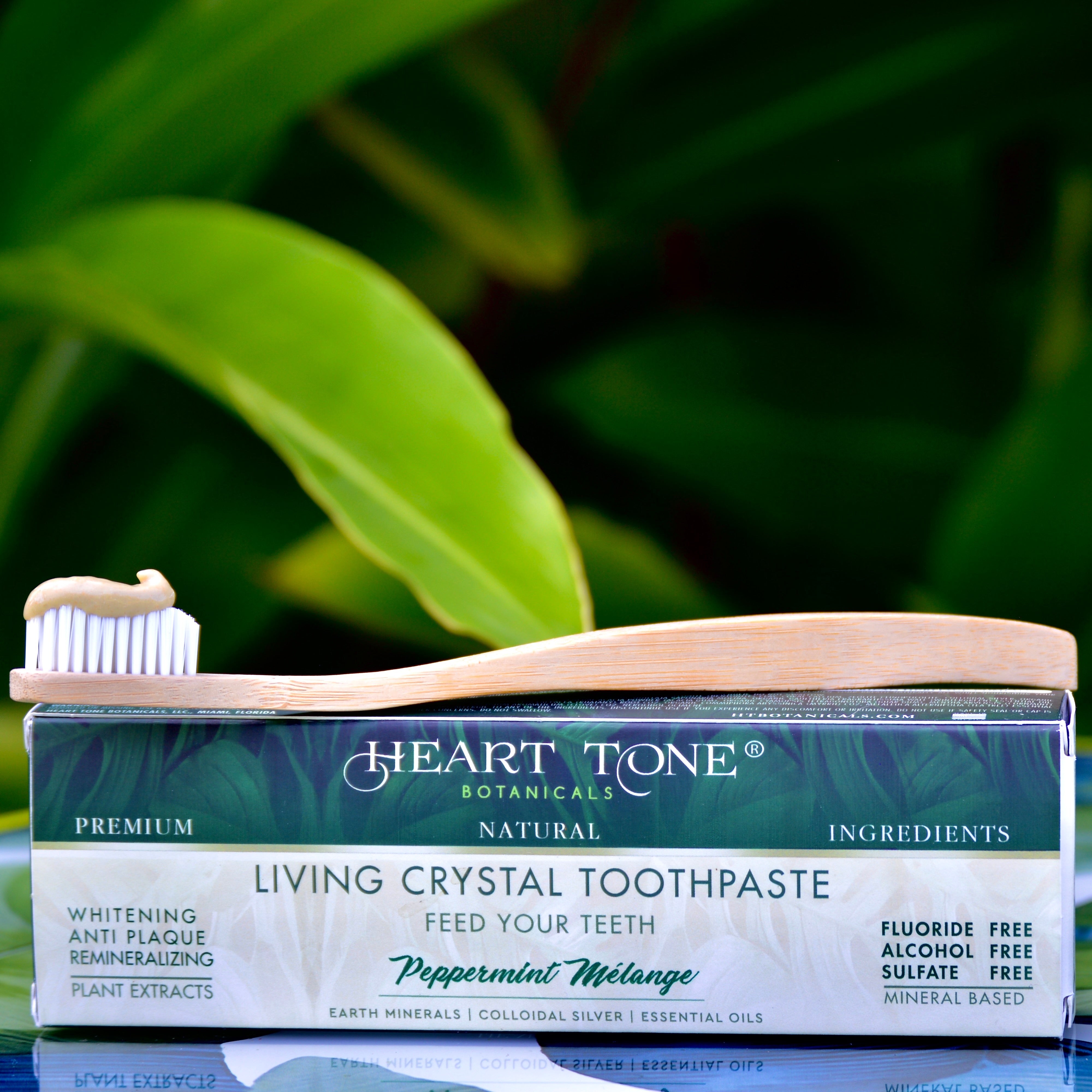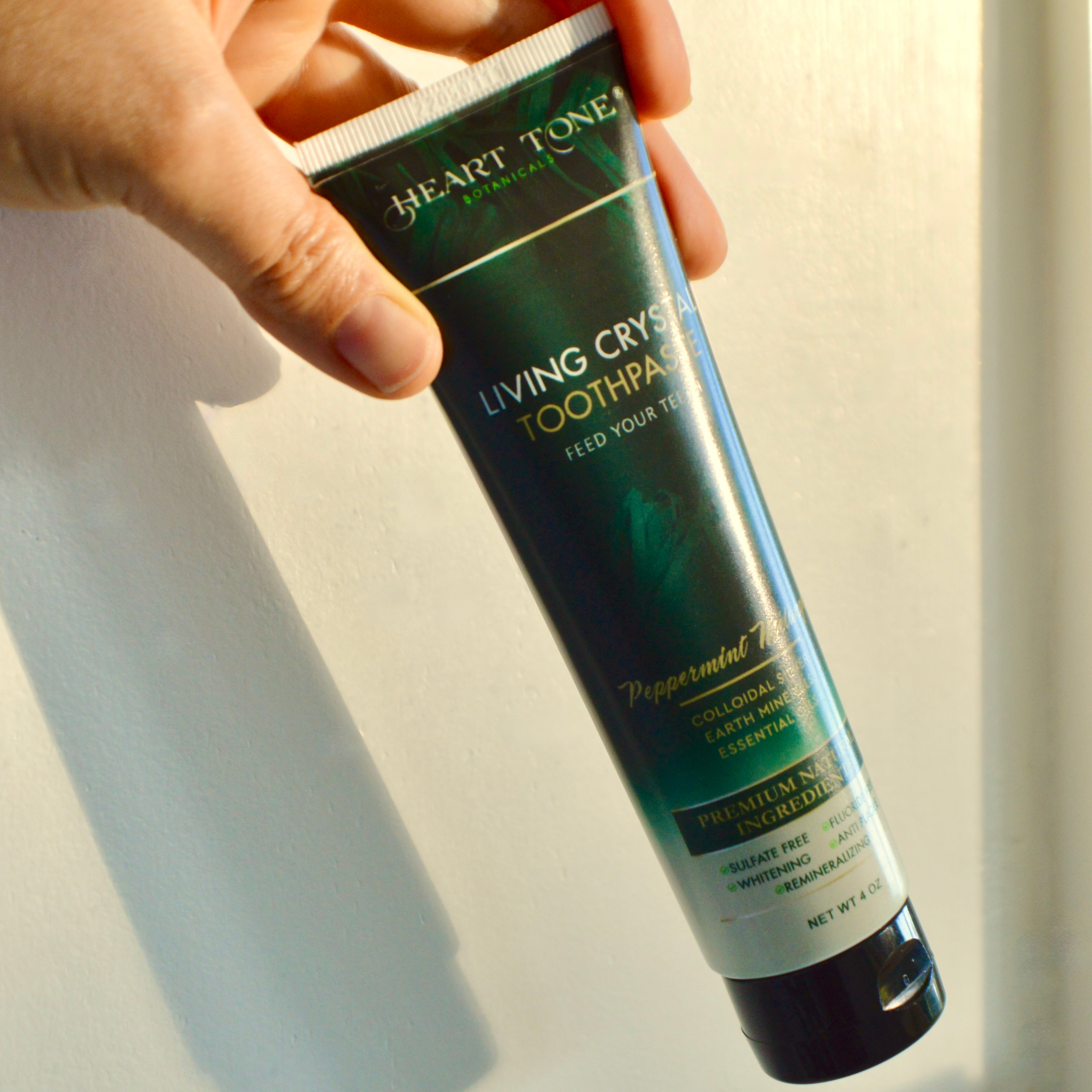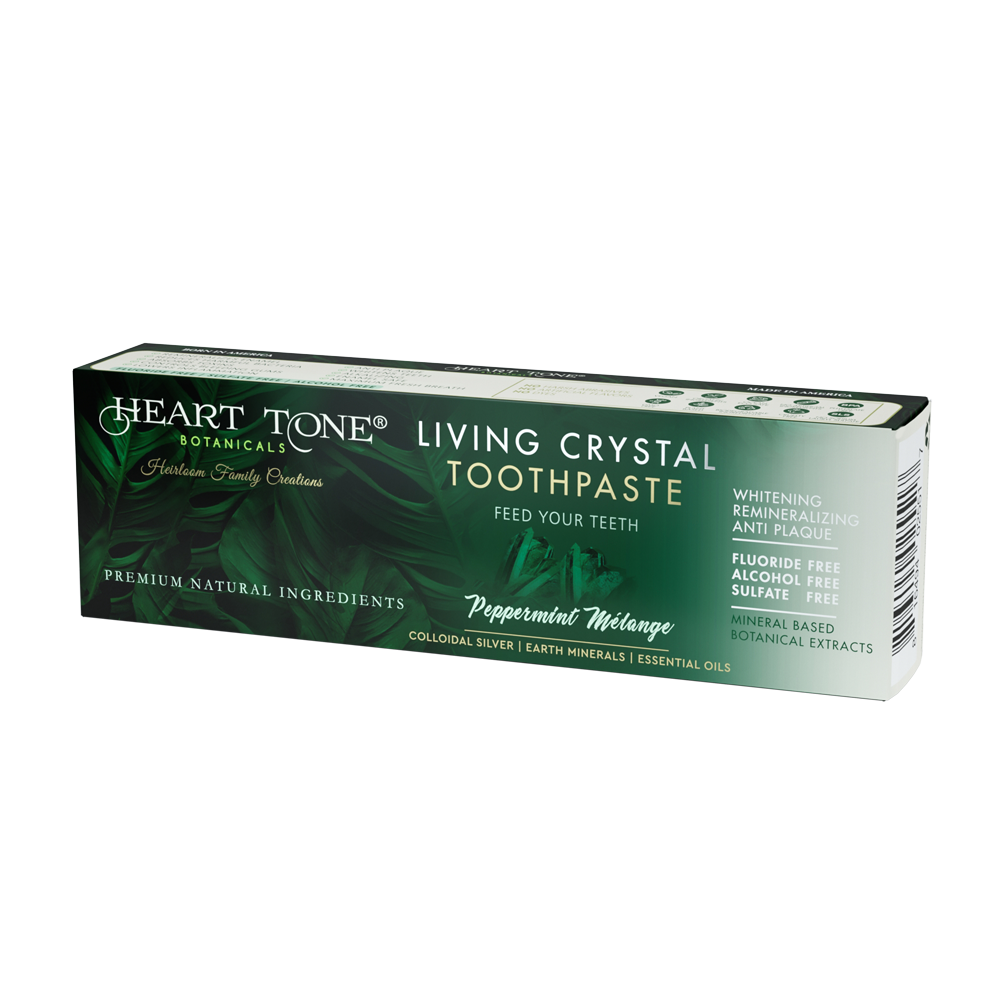 Living Crystal Toothpaste
---
Don't just brush, feed your teeth!
Introducing Living Crystal Toothpaste by Heart Tone Botanicals – the finest all-natural toothpaste for holistic oral care. Experience a new level of dental wellness as you nourish your teeth with this fluoride-free, pH-balanced formula.
Our powerful botanical blend provides a deep cleanse, while theobromine and hydroxyapatite actively remineralize. Strengthen and fortify your teeth with the natural potency of earth minerals, and restore optimal balance with the properties of colloidal silver.
Flavor: PEPPERMINT MELANGE

Indulge in an exhilarating burst of mint fushion with the perfect combination of peppermint, wintergreen, and spearmint, delivering the ultimate long-lasting fresh breath sensation.
Organic cocos nucifera (coconut) oil, Organic Xylitol, Organic Vegetable Glycerin, Sodium Bicarbonate, Kaolin Clay, Montmorillonite (bentonite) clay, Coral Calcium, Zeolite Clinoptilolite, Colloidal Silver, Organic Mentha Piperita (peppermint) essential oil, Magnesium Powder, Theobromine, Hydroxyapatite, Zinc Citrate, Yucca Schidigera, Organic Quillaja Saponaria Molina, Organic Gaultheria Fragrantissima Wall (wintergreen) essential oil, Organic Rubus Idaeus (raspberry) seed co2, Organic Calendula Officinalis (marigold) co2, Uśnea Lichen co2, Organic Senegál Acacia powder (acacia gum), Oganic Cyamopsis Tetragonoloba (guar gum), Mentha Arvensis (cornmint) essential oil, Eucalyptus Dives (peppermint gum) essential oil, Glycyrrhiza Glabra (licoricé root) co2, Kraméria Lappacea (rhatany) Root co2, Organic Commiphora Abyssinica (myrrh) co2, Melaleuca Alternifolia (tea tree) essential oil, Organic cCnnamomum Burmannii (indonesian cinnamon), Organic Menthol Crystals, Organic Syzygium Aromaticum (clove) co2, Nerolidól, Ocimene.
Benefits of Living Crystal Remineralizing Toothpaste

Our Living Crystals Toothpaste is designed to address oral issues at the root. Cleanse, remineralize enamel, and freshen your breath naturally, all the while nourishing your crystalline teeth. Experience the results, commitment to quality, and love that come with Heart Tone Botanicals natural oral care products.

What Makes Living Crystal Toothpaste a great choice?

Rather than using abrasive ingredients like pumice, silicas, and activated charcoal to clean and whiten, Living Crystal toothpaste uses hydroxyapatite sodium bicarbonate, bentonite, and kaolin clay to polish and clean your teeth gently and effectively.

When used over time, ingredients that are too abrasive can cause tooth damage. Our goal was to create a natural toothpaste that protected teeth but also helped to strengthen enamel a great choice for sensitive teeth.
How to Use Living Crystal

To use, simply spread a generous strip of remineralizing toothpaste on your toothbrush, wet it, and brush your teeth as normal. Remember to focus on every quadrant of your mouth and brush for a full two minutes.
What Makes Living Crystal Toothpaste the Best?

Rather than using harsh ingredients like pumice, silicas, and activated charcoal to clean and whiten, Living Crystal Hydroxyapatite Toothpaste uses sodium bicarbonate, bentonite clay, and kaolin clay to polish and clean your teeth gently and effectively.

When used over time, ingredients that are too hard can cause tooth damage. Our goal was to create a natural toothpaste that worked by not only protecting your teeth but also helping to strengthen and rebuild enamel. Plus, this remineralizing toothpaste is great for sensitive teeth!
Q: Is Living Crystal Toothpaste enamel-safe?
A: Yes! Most toothpaste on the market, including "natural" brands, use harsh abrasives that are much harder than human tooth enamel, which ranks a 5 on the Moh's hardness scale. To prevent enamel erosion, it's important to only use abrasives that rank below 5.

Using harsh abrasives such as silicas, pumice, activated charcoal, and diatomaceous earth over time will lead to dentin exposure. Living Crystal Remineralizing Toothpaste uses soft yet highly effective cleansing and polishing agents such as sodium bicarbonate (2.5 Moh's hardness scale), kaolin clay (2.5 Moh's hardness scale), and montmorillonite clay (2.5 Moh's hardness scale).

Q: Will Living Crystal Toothpaste perform better than my conventional brand?
A: It's understandable that some might have doubts about natural toothpaste's efficacy. We, however, deliver the goods! Incredibly fresh breath, amazingly clean-feeling teeth. We believe so strongly that you will love all the harmonizing effects of Living Crystal Remineralizing Toothpaste that we are willing to back it up with our 100% Satisfaction Guarantee commitment.

Q: How does enamel remineralization work?
A: We use essential trace minerals such as magnisuim, zinc, coral calcium, and clinically proven theobromine found in cocoa (chocolate) beans and hydroxyapatite ito strengthen and help build enamel. Remineralization of teeth is a two fold process; internal and external.

When the tooth enamel is exposed to elements such as magnesium, calcium, and boron, enzymatic saliva combines with these minerals, and they are pushed into the soft tissue portion of the tooth called dentin. In time, the dentin hardens the enamel. Proper oral hygiene combined with a nutrient-rich diet with limited phytic acid is a great way to improve oral care routine.

Q: I have sensitive teeth. Will this work for me?
A: Living Crystal is a hydroxyapatite toothpaste that was formulated to not only be gentle enough for use on sensitive teeth but also help strengthen them and address the issue.

Q: Why isn't there activated charcoal in the toothpaste?
A: Activated charcoal is an amazing substance capable of incredible health benefits. Though, despite popular belief and current trends, activated charcoal as a toothpaste additive is not in your teeth's best interest. The reason is due to the hardness level of activated charcoal. Despite the sources, either from coconut coir or wood, activated charcoal is simply too abrasive for enamel, and prolonged use can lead to damaged enamel.

Q: For how long after I brush with Living Crystal Remineralizing Toothpaste will I get anti-plaque protection?
A: Living Crystal Toothpaste creates a blank slate with every use. Combined with the pH-balanced effects, you can expect the powerful anti-plaque action to continue for hours or until the next time you expose the mouth to acidic liquids, sugary beverages, or foods. Once this happens, the contained oral cavity will need to be cleansed again to provide maximum protection.

Q: Is the flavor strong enough?
A: In our opinion, when it comes to toothpaste, nothing seems to disappoint more than a weak flavor. A lack of flavor forces you to use more than necessary to overcompensate to get that minty-fresh taste. We truly love the super fresh burst of flavor that lingers in our mouths after brushing with Living Crystal Toothpaste which is why we went full throttle on flavor to ensure everyone can enjoy the everlasting and satisfying feeling of maximum fresh breath!

Q: How often should I brush my teeth with Living Crystal Toothpaste?
A: At a minimum, twice daily. Though we recommend you brush your teeth any time after you consume acidic and sugary beverages or eat any foods. So, if you eat and drink around breakfast, lunch, and dinner, then that would be three times a day.

Q: Will using Heart Tone's Restorative Mouth Rinse along with the hydroxyapatite toothpaste benefit oral hygiene?
A: Introducing our Restorative Mouth Rinse to your natural oral care routine, coupled with the use of Living Crystal Toothpaste, will elevate your oral hygene to new heights. Using a finishing rinse after brushing allows for the liquid to penetrate and reach all areas of the mouth where brushing and flossing cannot. Our Restorative Mouth Rinse uses the restorative benefits of aloe vera.

Q: Is flossing that important?
A: Yes. Not only is flossing important, but it's an integral part of maintaining oral hygiene. Flossing helps dislodge and remove food particles that are stuck between teeth crevices. Flossing is essentially the act of "brushing" in between the teeth spaces.

Q: Should I brush my tongue?
A: Whether you use a tongue scrapper or a toothbrush, it's equally important to include the act of tongue cleansing into your daily oral health routine. The human tongue is a harbinger of over 300 different species of bacteria. Cleansing the tongue removes built-up odors, stains, and contaminants that impact the overall oral ecosystem.

Q: Which foods are best to help restore oral balance?
A: Select whole foods that are nutrient-dense, such as raw organic fruits and vegetables, micro-algae like spirulina and chlorella, and grass-fed meats, free-range eggs, wild-caught fish, sprouted grains, and nuts.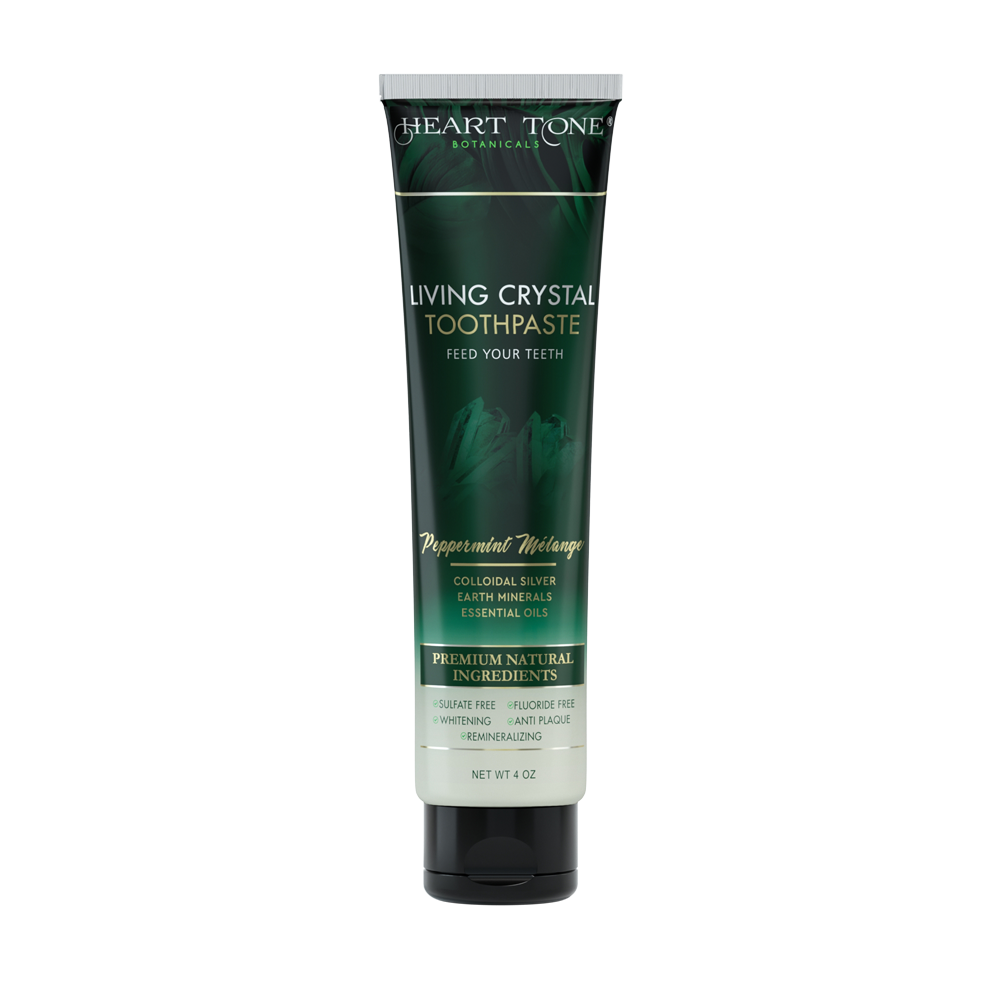 Favorite Oral Hygiene Product
I found Living Crystal Toothpaste while exploring the farmers market in Vero Beach. I took a pamphlet home and ordered my first tube. I had been looking for a natural toothpaste and as soon as I started using Living Crystal toothpaste, I knew this was the product I'd been looking for. It is the only toothpaste I've used for nearly a year and it has greatly decreased my tooth sensitivity. It leaves my mouth and teeth feeling so clean. I've seen my dentist twice since I started using this toothpaste, and my dentist has told me both visits that my teeth look great and my gums are healthy, so keep doing whatever I'm doing. I get so many compliments on my smile and I always tell people about this toothpaste! I love this toothpaste and feel good about its ingredients! I will keep buying and recommending this product!
Heart Tone Toothpaste WORKS!
I have been using Heart Tone Living Crystals toothpaste for a mere 3 weeks and can hardly believe the changes in my teeth! I am a daily coffee drinker so I have historically had some yellowing regardless of the products I use. However, my teeth are already brighter, whiter and smooth throughout the day. I barely see any yellowing even between my teeth. My mouth feels so clean after using this fresh, minty product. I'm grateful to finally be using such a healthy toothpaste! I am excited for my upcoming dentist appointment to show off these results!! Living Crystals toothpaste is worth every penny!
The best toothpaste ever
My teeth never felt this clean and fresh even after a dental appointment. Love this toothpaste and all the amazing ingredients in it.
Great for helping with sensitivity
This is the only natural toothpaste I've used that actually worked for the sensitivity issues I was having. Was stuck using sensodyne before this and even that wasn't fully helping with the sensitivity. This stuff actually works. My teeth feel stronger and cleaner now too.
Great living crystal toothpaste
I love how this toothpaste has all premium natural ingredients in it. I have added this to my everyday teeth cleaning and let me just say, the results are amazing. My teeth are literally so much whiter and feels so much cleaner now! This tooth paste is definitely worth buying , you will be glad you did!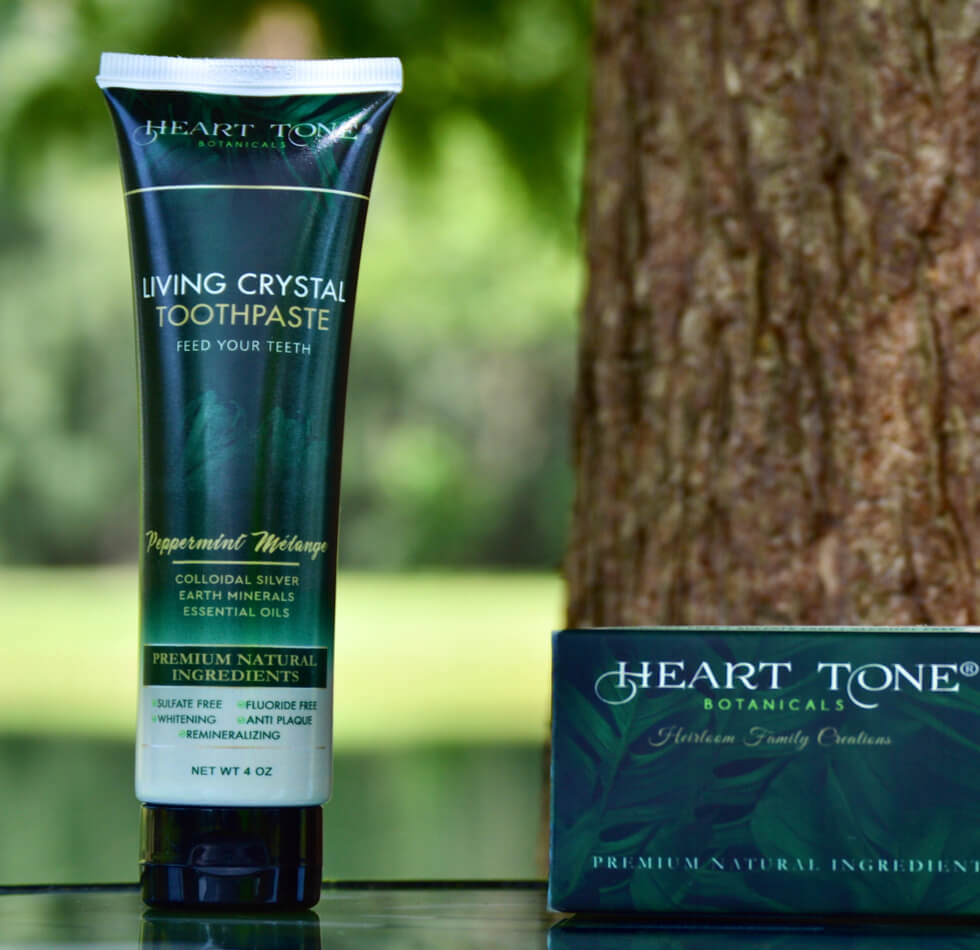 A THRIVING BODY STARTS WITH A HEALTHY MOUTH 
The Most Advanced All-Natural and Fluoride-Free Toothpaste
Unveil a new era in oral care with Living Crystal – a groundbreaking hydroxyapatite and theobromine toothpaste meticulously crafted to cleanse, detoxify, remineralize, polish, refresh, and restore.
At the core of our innovation lies a commitment to harnessing nature's wisdom. Living Crystal is fortified with hydroxyapatite, a mineral that works in harmony with your teeth's composition. Bid farewell to fluoride, as our formula embraces a holistic approach to oral health. pH balanced for – a harmonious restoration of your mouth's natural microbiome.
Elevate your oral care to an unparalleled realm of purity and efficacy with Living Crystal. Embark on a journey where science meets nature, where innovation meets harmony. Supercharge and revitalize your oral care routine with our uniquely smooth blend, embodying the essence of purity and innovation. Welcome to the future of oral care – welcome to Living Crystal.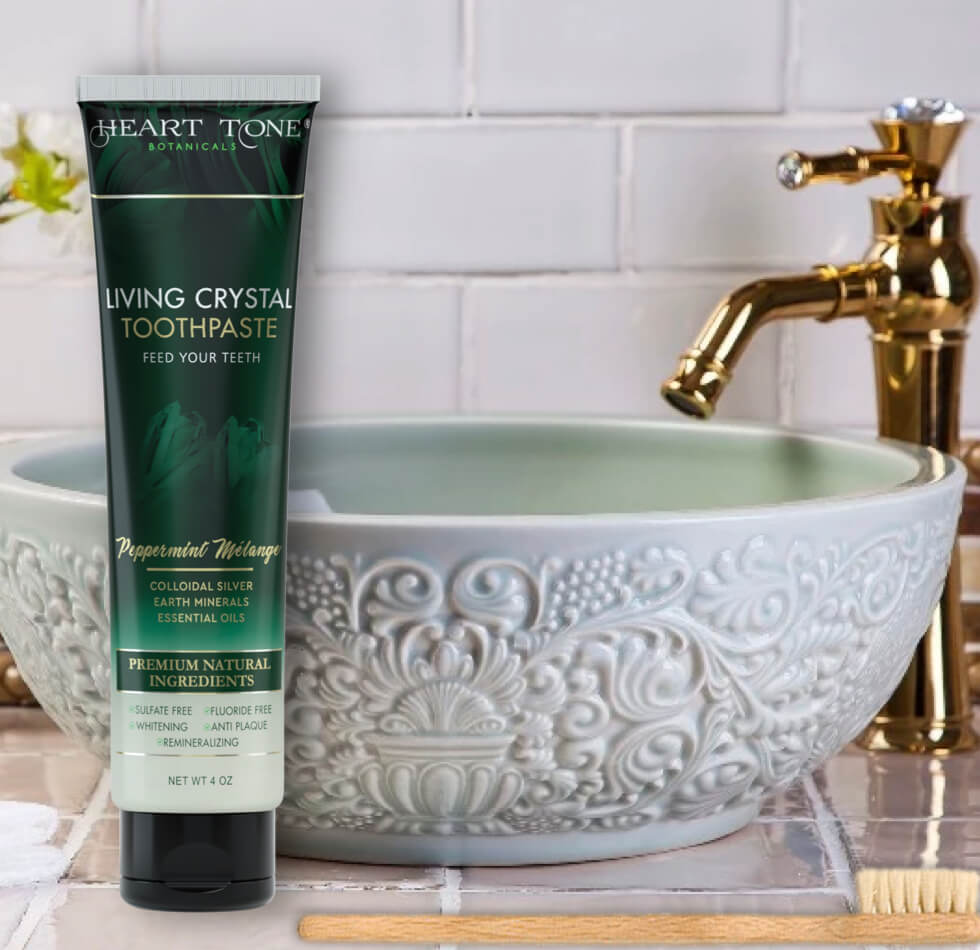 What's in Living Crystal Hydroxyapatite Toothpaste?
18 Botanical Extracts: Nurturing Nature's Bounty in Our Natural Toothpaste
Prepare to immerse yourself in the abundance of nature's goodness as we introduce the magic of 18 Botanical Extracts within our all-natural toothpaste. This innovative fusion of Co2 extracts, essential oils, terpenes, and raw organic plant oils takes center stage in your journey towards naturally revitalized oralcare.
ORGANIC COCONUT OIL BASED
HARNESSING THE POWER OF RAW ORGANIC COCONUT OIL TOOTHPASTE FORMULA

Unlocking the secrets of nature, our raw organic coconut oil toothpaste formula stands as a testament to holistic oral wellness. The Living Crystal Toothpaste, enriched with a nourishing coconut base, offers a profound and thorough mouth cleanse. Within its embrace lie a treasure trove of essential vitamins, minerals, fatty acids, and antioxidants that not only cleanse but also nurture and moisturize the mouth.

Co2 RASPBERRY SEED OIL: A Natural Elixir for Oral Radiance
Step into the realm of holistic oral care with Raspberry Seed Oil – a gift from nature that unveils a symphony of wellness for your mouth. Bursting with the goodness of essential vitamins, minerals, phytochemicals, fatty acids, and antioxidants, this all-natural oil stands as a testament to oral rejuvenation.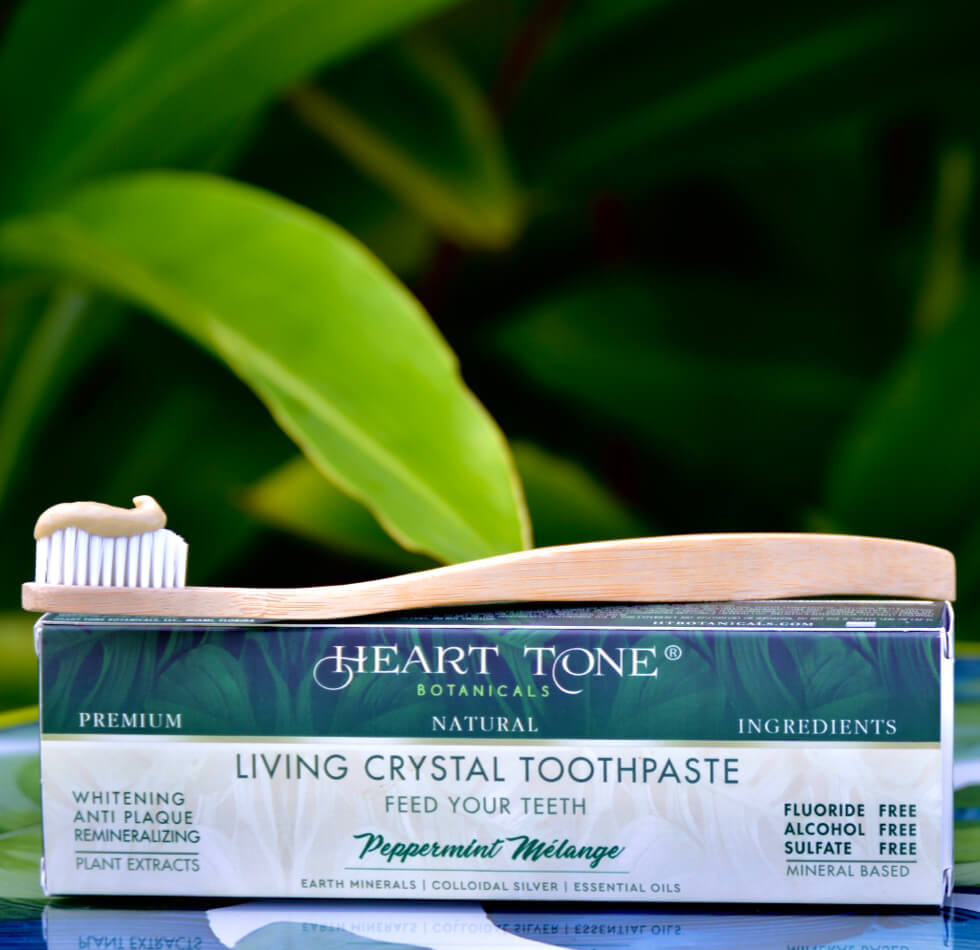 EXPERIENCE THE UNPARALLELED BENEFITS OF OUR FLUORIDE FREE TOOTHPASTE
MOISTURIZING - Non Drying
FLUORIDE FREE - Non-Toxic
pH BALANCED - Restores Balance
ENAMEL KIND - Non-Abrasive
ELIMINATES ODORS - Freshen Breath
REMINERALIZING - Strengthen Enamel
SUPPORTS GUMS - Promotes Oral Wellness
FLUORIDE FREE-NO TOXIC CHEMICALS. 
Living Crystal's finest all-natural toothpaste is not only beneficial for you and your family but also embraces a commitment to the well-being of our planet. Our Living Crystal all natural toothpaste is crafted to cater to the requirements of individuals who prioritize their well-being. Never any Fillers and Does not contain any of the following Fluoride, Alcohol, Artificial colors/dyes, paraben's, synthetic preservatives,  petroleum and or petrochemicals, Propylene Glycols (PG) or Polyethylene Glycols (PEG), Propendiol, Petrolatums, Paraffins, phthalates, Phosphates, Sodium Phosphates, Disodium Phosphates or Trisodium Phosphates, Foaming agents such as, Sodium Laurel Sulfates (SLS), Sodium Laureth Sulfates (SLES), or ammonium laureth sulfate (ALS), and Triclosan.  
NO FLUORIDE 
NO FOAMING AGENTS (SLS/SLES)
NO PETROCHEMICALS (PG/PROPENDIOL)  
NO PRESERVATIVES 
Harnessing Nature's Potency: The Fusion of Plants and Trace Minerals in Our Hydroxyapatite Natural Toothpaste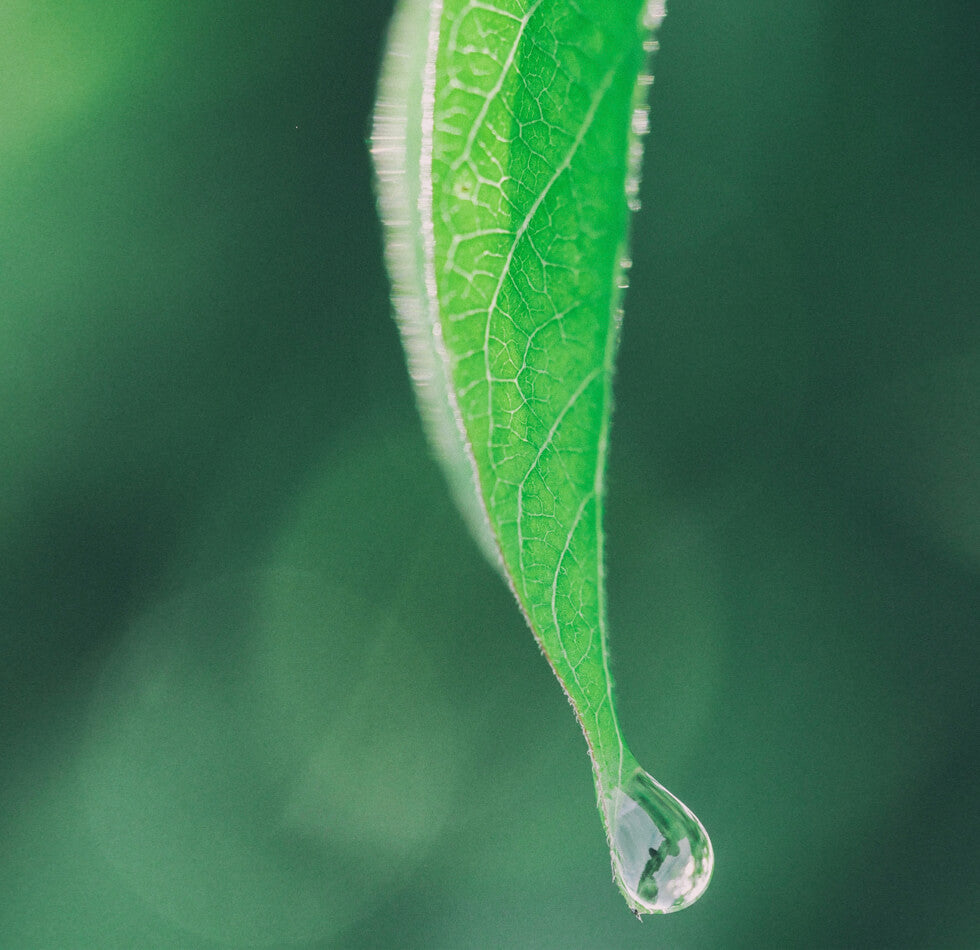 Unveiling Nature's Breath Revivers in Our Natural Toothpaste
Freshen your breath naturally with Living Crystal remineralizing toothpaste. It instantly revitalizes breath with a cool, exhilarating blast of minty-fresh flavor without leaving your mouth dry and sensitive. We use American-grown mints and NEVER use any artificial flavorings or sweeteners. Using Living Crystal all-natural toothpaste regularly will help you guard against bad breath.
• TEA TREE
• CLOVE
• CORN MINT
• MENTHOL
• PEPPERMINT
• EUCALYPTUS PEPPERMINT
• WINTERGREEN
NATURAL GUM REVITALIZERS 
Gums are comprised of soft tissue that covers and protects the bones of your mouth. This tissue forms a tight seal around the teeth to keep them in place and provide a barrier against contaminants. Without the correct gum care, food particles can find their way in and around your teeth.
Our toothpaste contains plant-based revitalizers that help to restore resilience to the gums while removing trapped food particles from them. These plant-based revitalizers include:
• YUCCA SHIDIGERA
• LICORICE ROOT
• OCIMENE
• RHATANY ROOT
• MARIGOLD
• USNEA LICHEN
• RASPBERRY SEED
REMINERALIZE WITH TRACE MINERALS
Living Crystal all-natural toothpaste promotes remineralization and restoration with the following minerals:
HYDROXYAPETITE (nhAP)
THEOBROMINE
MAGNESIUM
ZINC
CORAL CALCIUM
ZEOLITE CLINOPTILOLITE
PH BALANCED TOOTHPASTE FOR TOTAL DENTAL HYGIENE 
Living Crystal remineralizing toothpaste is not only refreshing but pH balanced to restore the natural microbiome in your mouth and revitalize your teeth and gums.
The pH of your mouth wields immense power. Both overly acidic and excessively alkaline environments can lead to enamel and tooth damage over time. Maintaining a balanced pH is a cornerstone of overall oral wellness, a silent yet crucial guardian of your smile's longevity.

Our toothpaste not only achieves perfect pH balance but also introduces a symphony of essential plant- and mineral-based nutrients. This meticulous blend aids in, ensuring your oral environment remains vibrant and strong.
• COLLOIDAL SILVER
• NEROLIDOL
• XYLITOL
• MYRRH
• CINNAMON
• CLOVE
• COCONUT OIL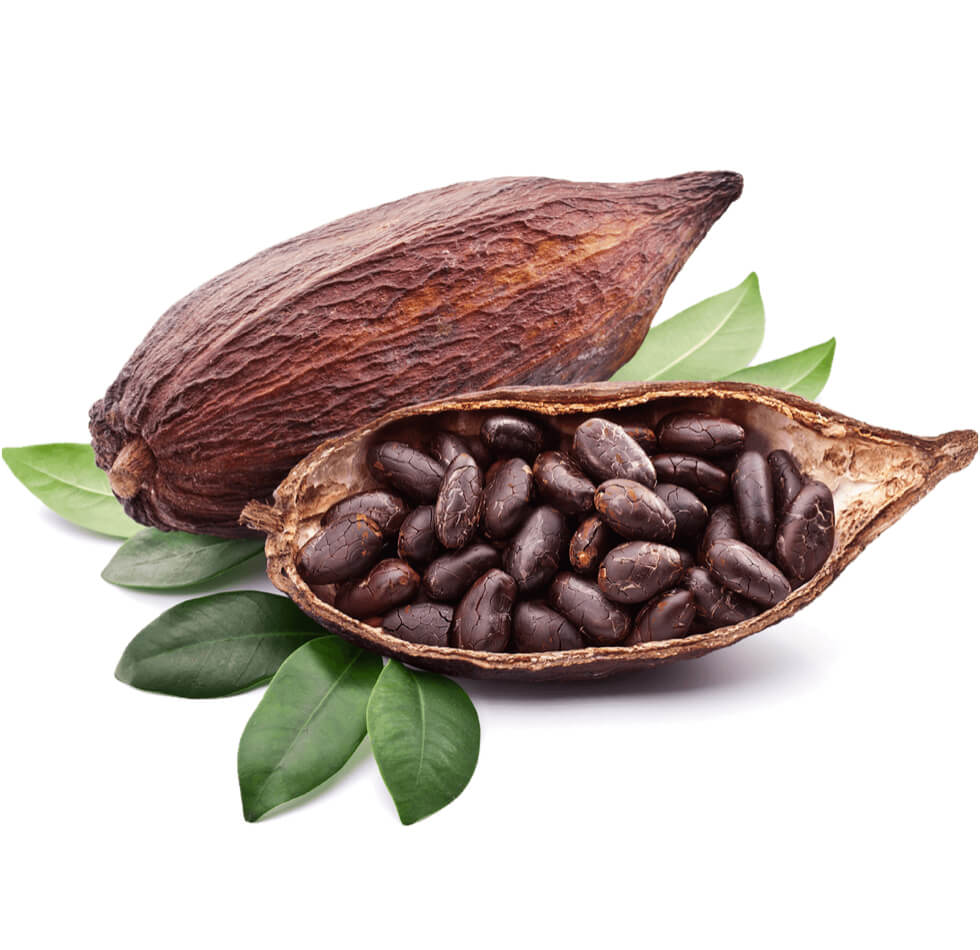 THEOBROMINE: THE NATURAL FLUORIDE ALTERNATIVE 
Theobromine is a molecule derived fromthe cocoa, aka "chocolate," plant that has been touted as the "natural" alternative to Fluoride. With the many studies and publications showing the effectiveness of Theobromine to protect and restore enamel, there is no question as to why we choose to use it in our all-natural Living Crystal Remineralizing Toothpaste.
Theobromine, a superior ally in any natural oral care routine. With adequate daily brushing, you'll be able to maintain the integrity of your teeth for years to come.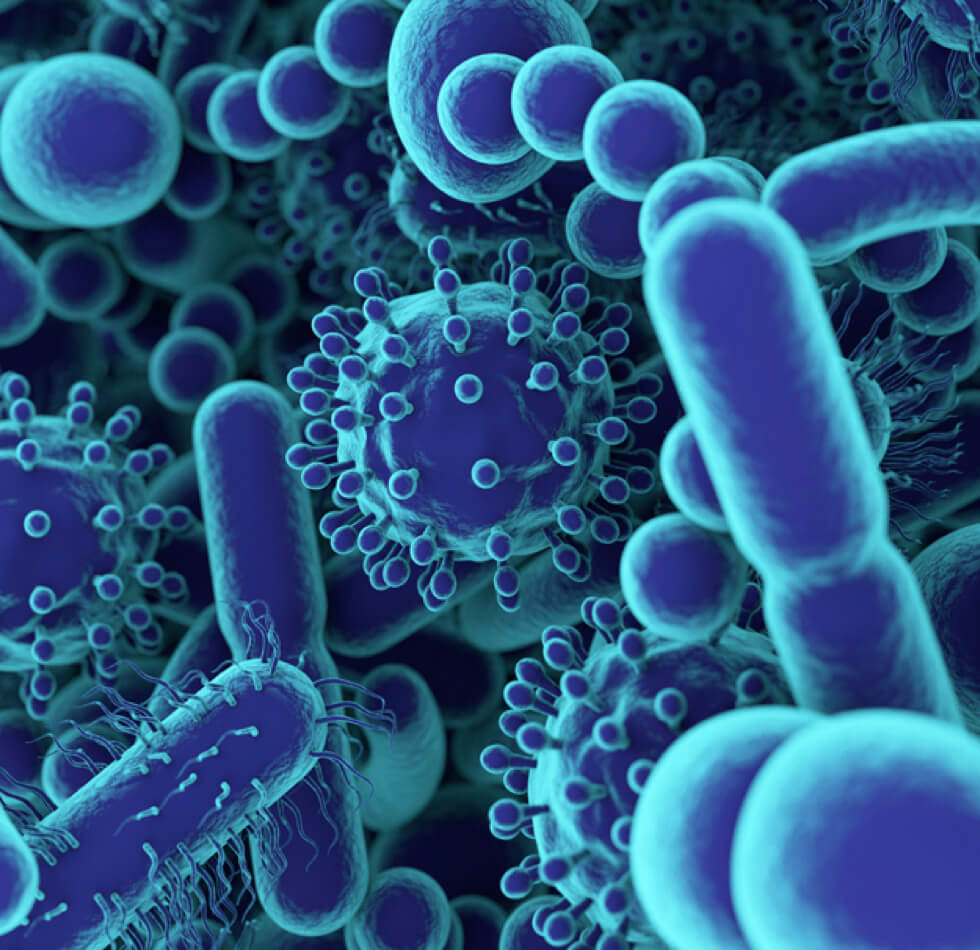 History of Silver 
THE SILVER BULLET 
COLLOIDAL SILVER 99.9% PURE NANOSILVER
Living Crystal remineralizing toothpaste uses electronically charged micro silver particles suspended in pure distilled water to harmonize the oral micro-biotic environment.
Silver has been used medicinally for more than 2,000 years. Ancient civilizations learned that silver possessed powerful, preservative-like effects and would store wine and water in silver vessels to prevent spoilage.
Hippocrates, the "father of medicine," wrote in his medical texts that silver had many beneficial medicinal properties, and he praised silver for its abilities in wound care.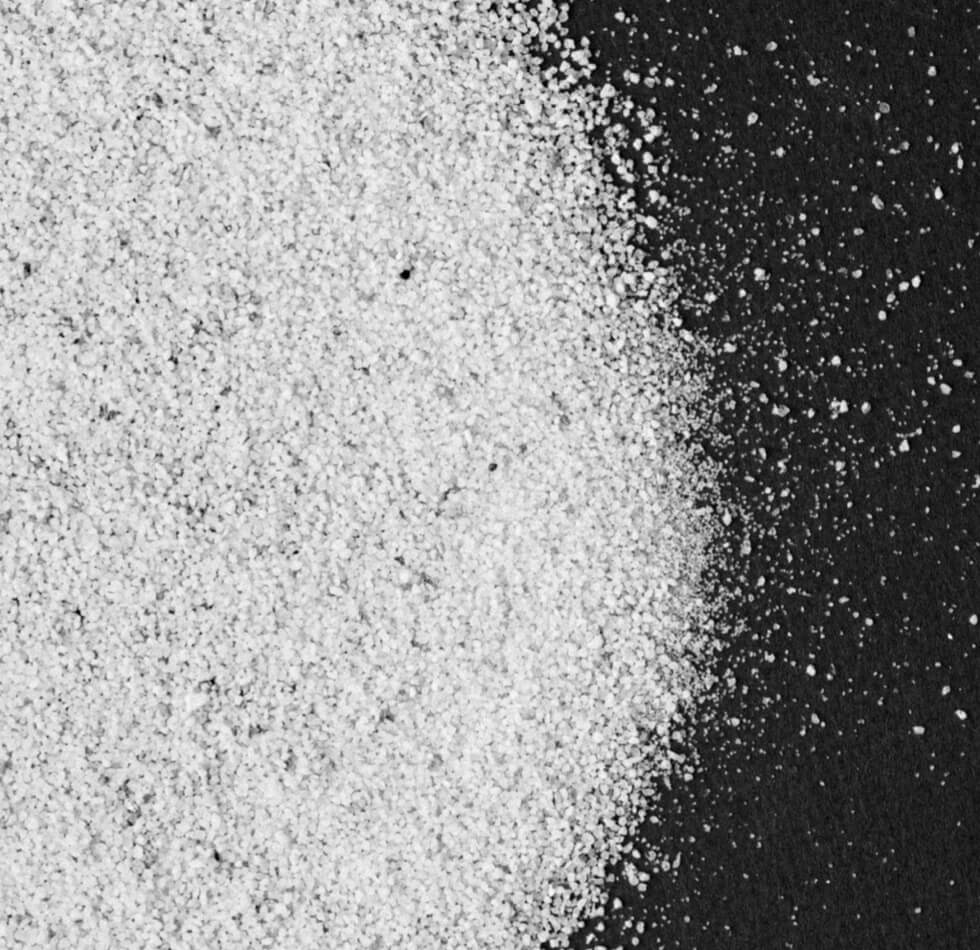 NO HARSH ABRASIVES
Living Crystal all-natural toothpaste uses only soft polishers to break up plaque and debris.
SOFT POLISHERS
• Sodium Bicarbonate
• Kaolin Clay
• Bentonite Clay
AND NEVER ANY
• Silica
• Diatomaceous Earth
• Pumice
• Activated Charcoal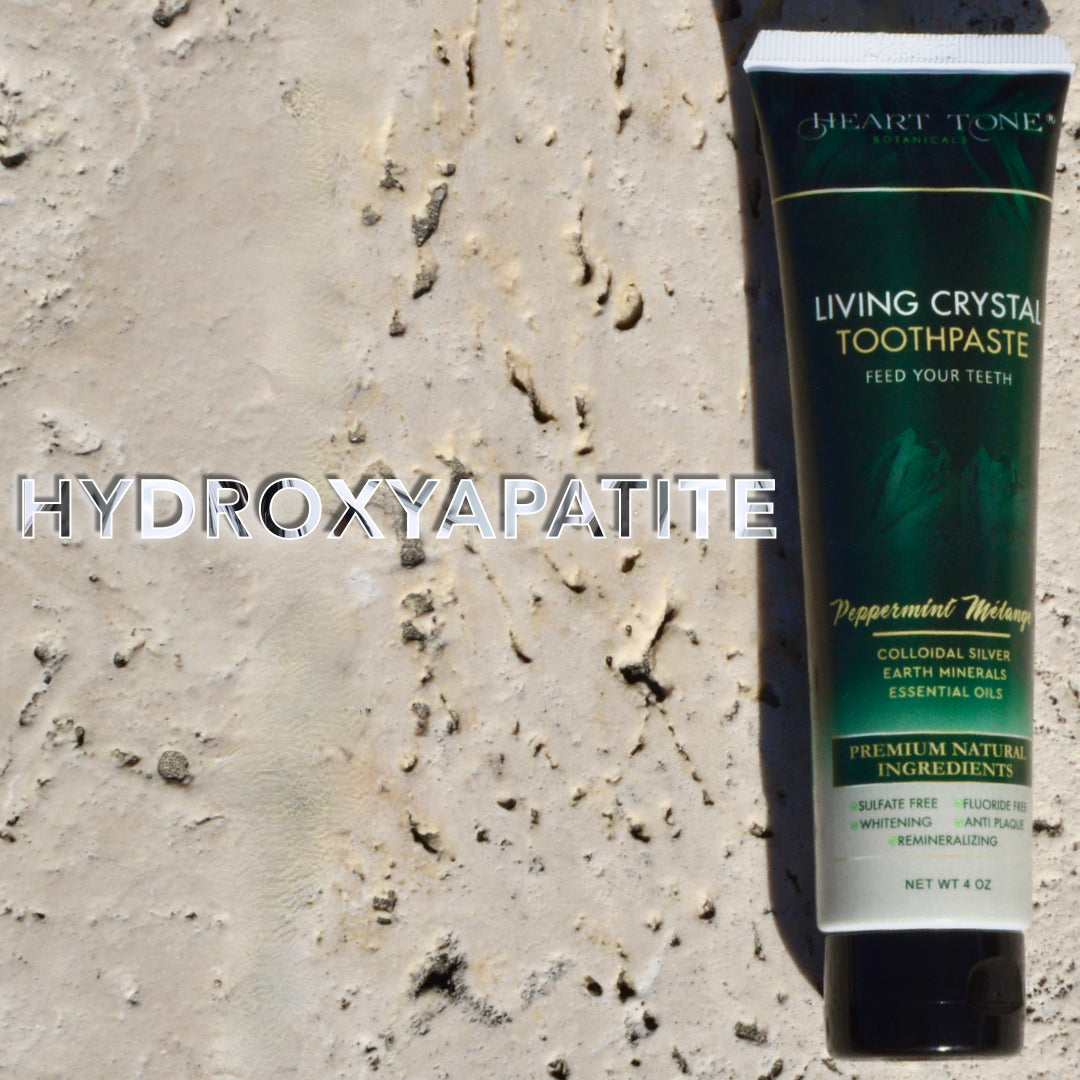 NANO HYDROXYAPATITE TOOTHPASTE
Hydroxyapatite is a biocompatible mineral component that makes up 97% of tooth enamel. Several studies have confirmed the ability of hydroxyapatite to promote the restoration of demineralized enamel, dentin, and tubules. Reduce sensitivity while whitening teeth without the use of Fluoride with Living Crystal Remineralizing Toothpaste.