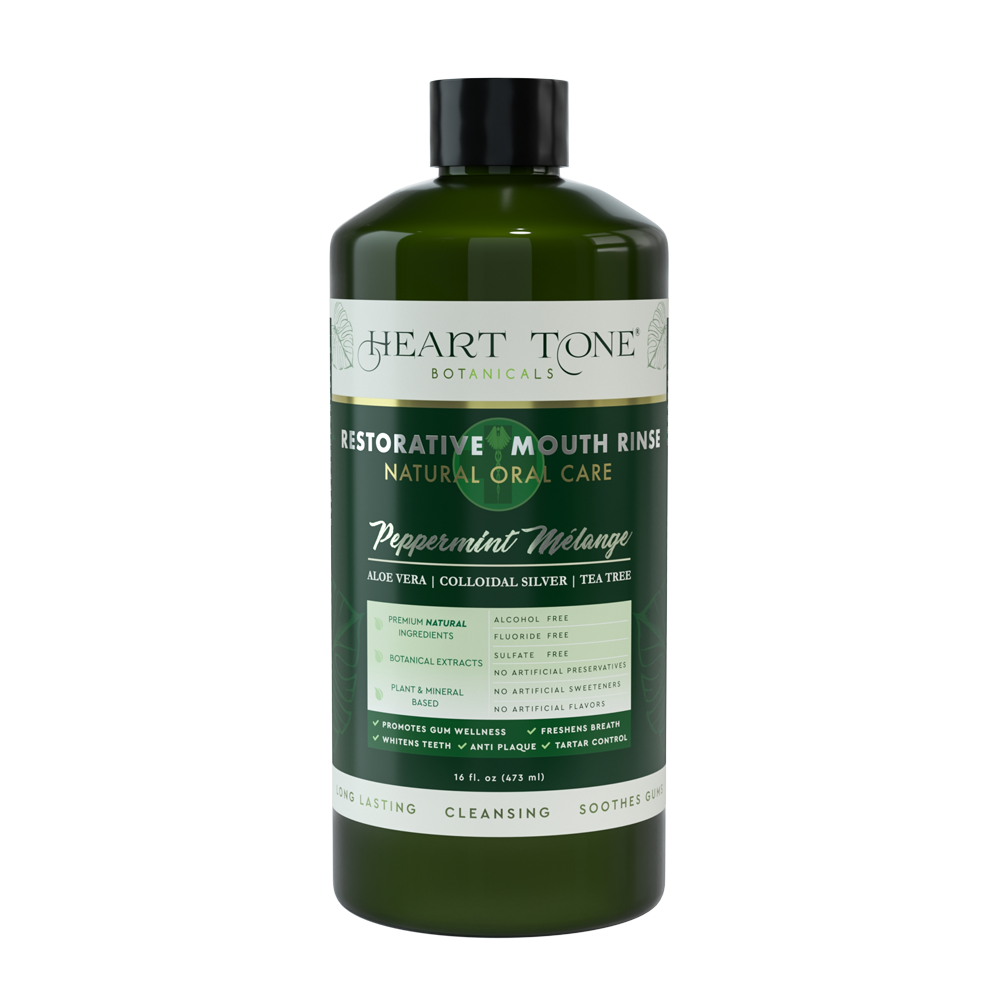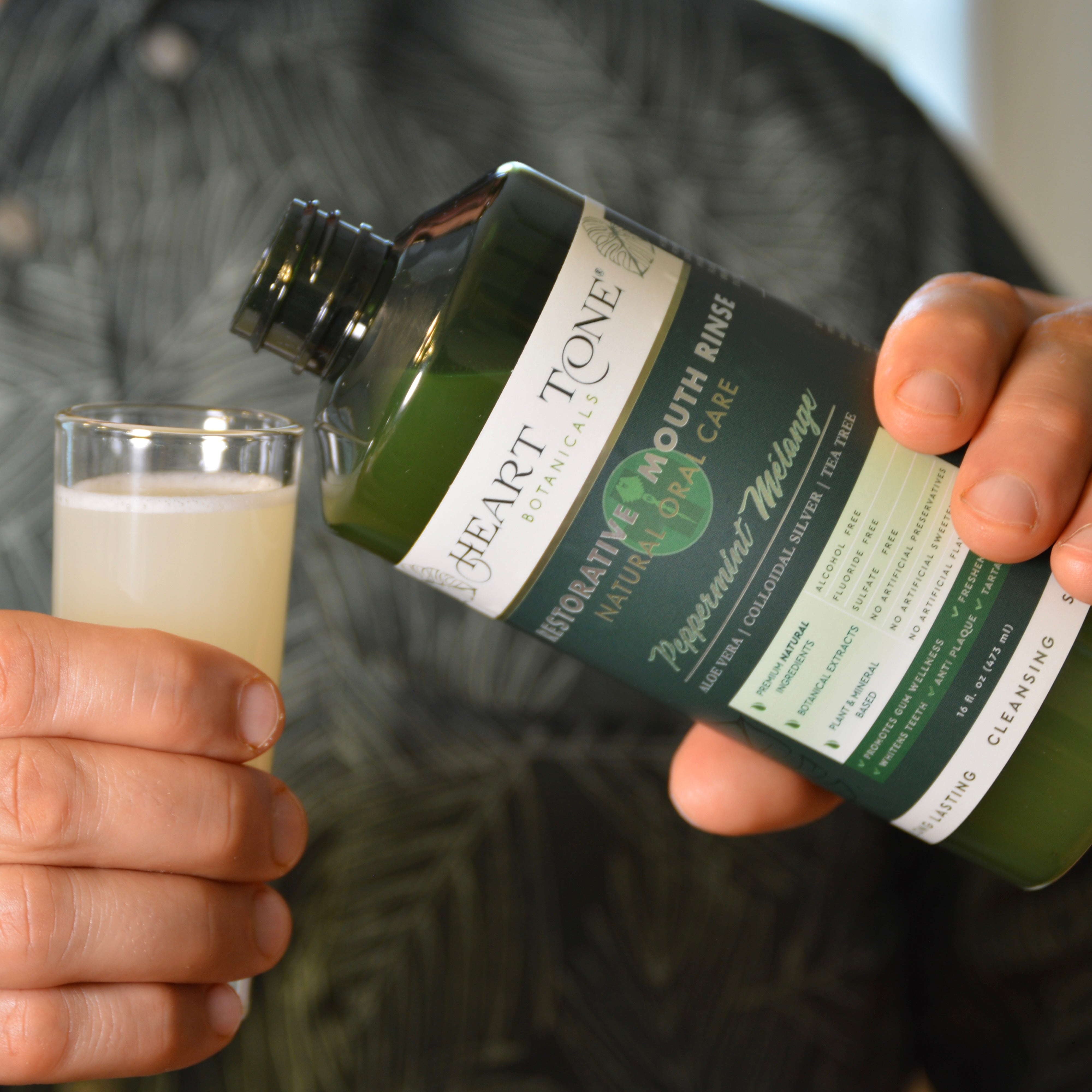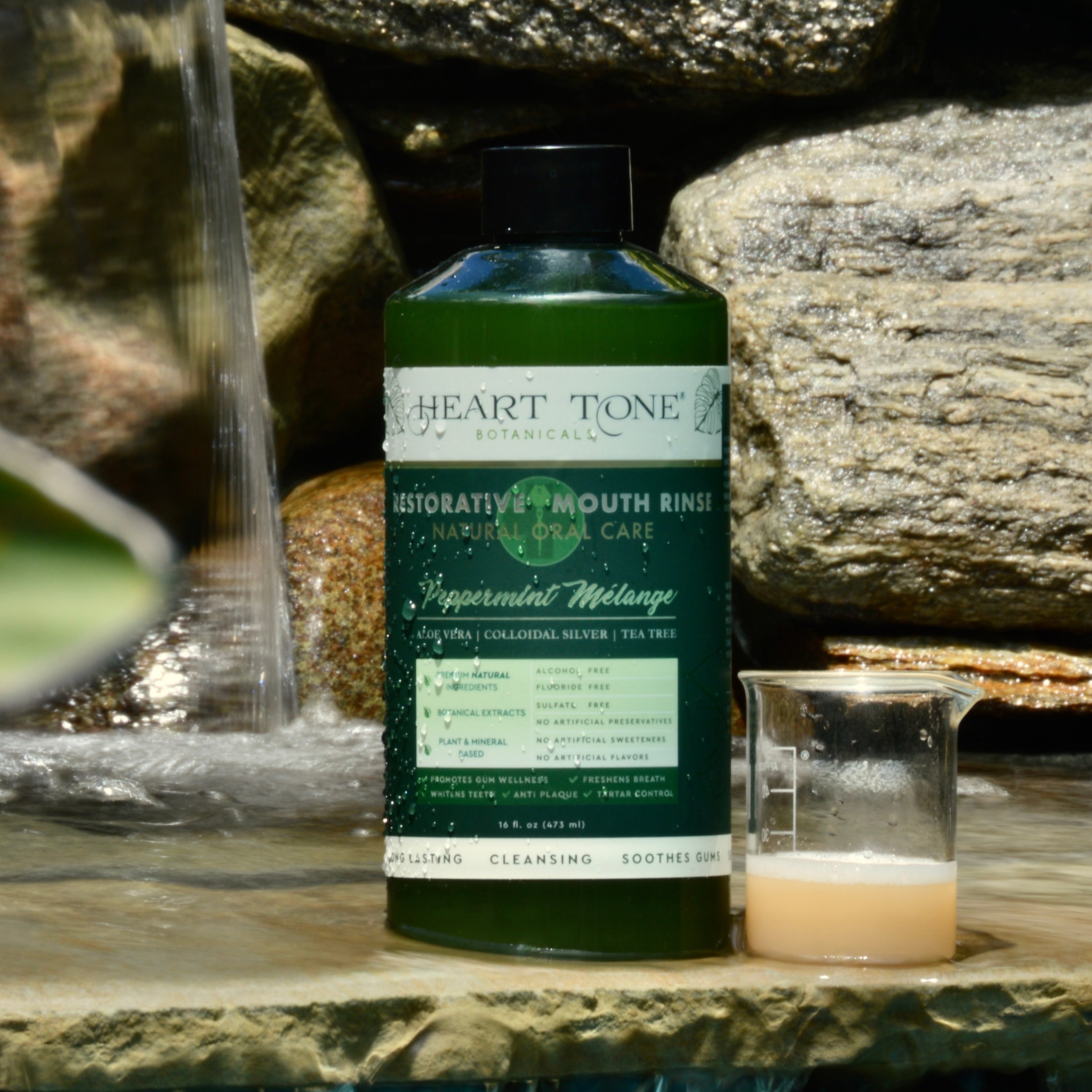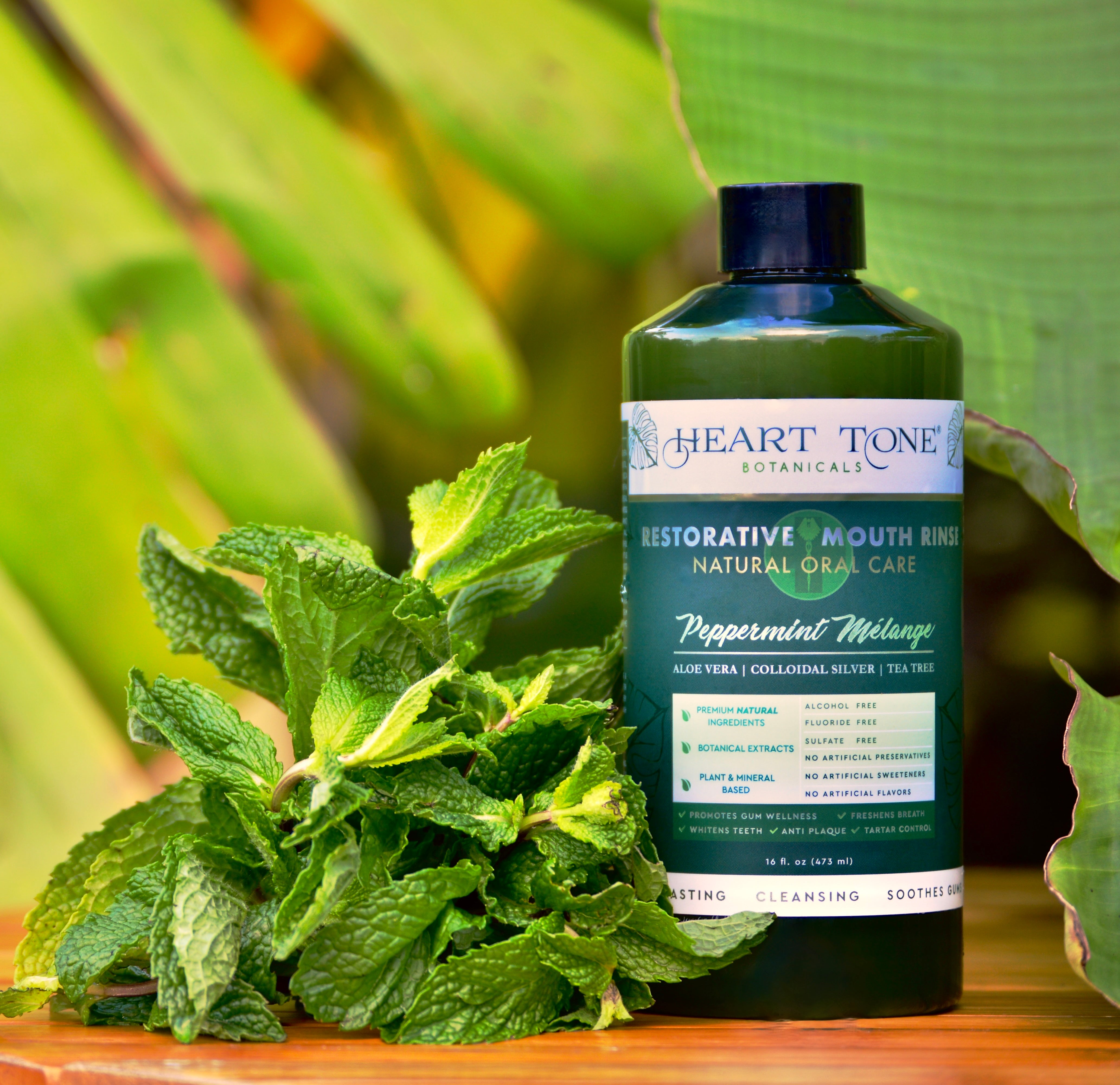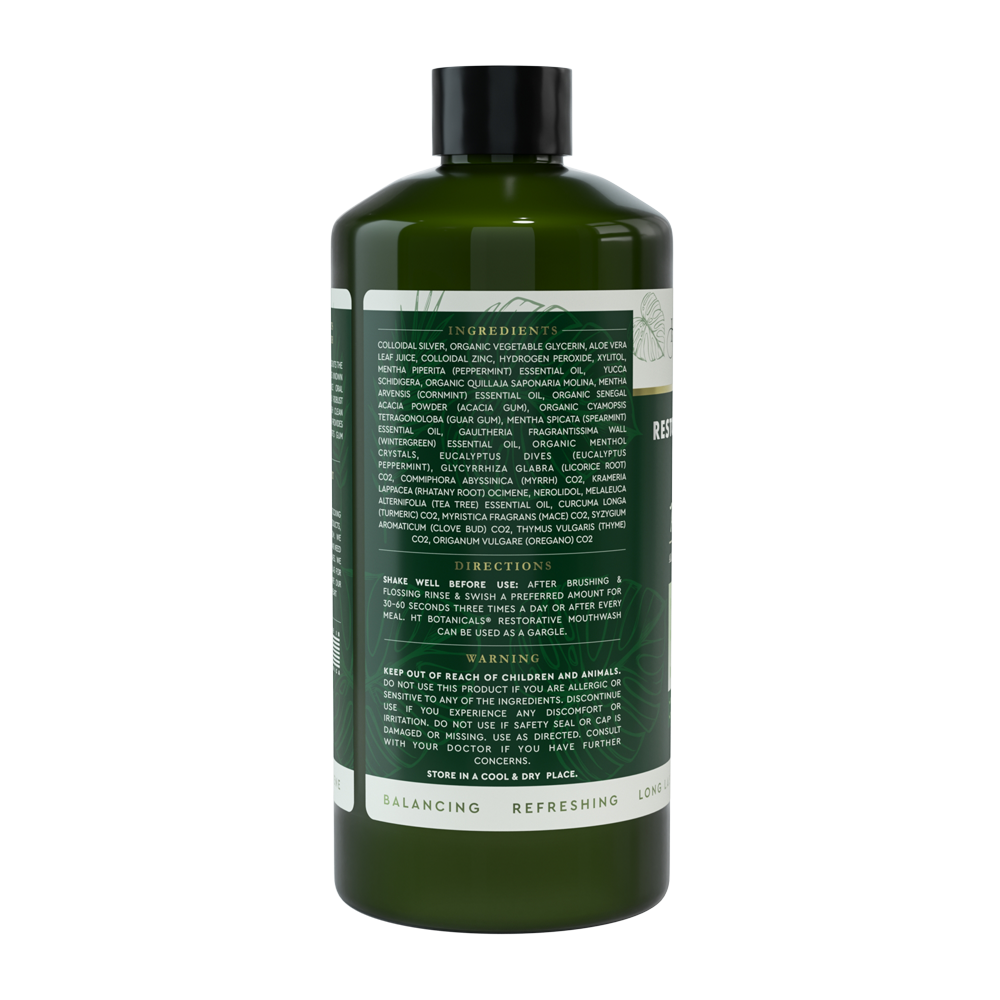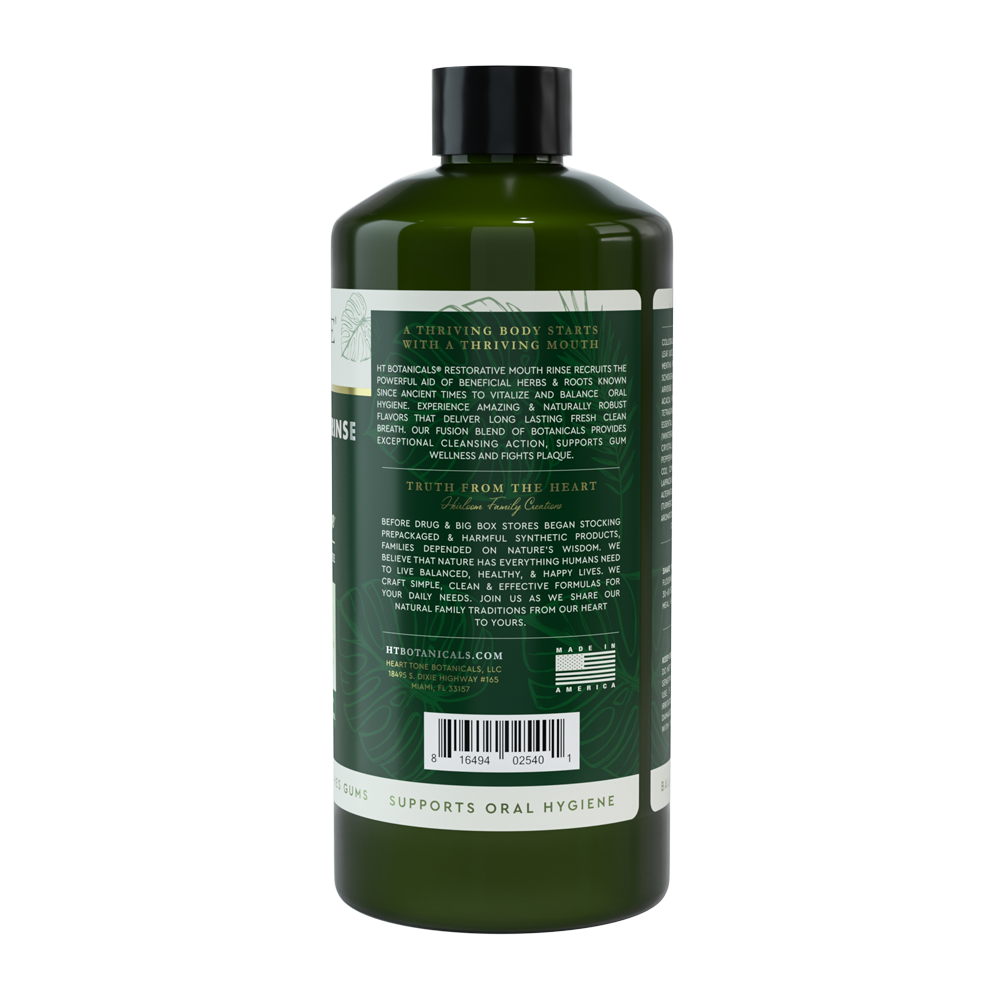 Restorative Mouth Rinse
---
Take back your oral health
The world's best all natural, alcohol-free, & PH balanced mouth rinse
Revitalize, refresh, & restore balance to your mouth with invigorating botanics that fight plaque & calm bleeding gums. A perfect blend of aromatic herbs & colloidal silver that provides long lasting tartar and plaque protection.

Flavor: PEPPERMINT MELANGE
An exhilarating burst of mint fusion with peppermint, wintergreen, & spearmint for the ultimate long lasting fresh breath.

MOUTHWASH-PEPPERMINT MELANGE
COLLOIDAL SILVER, ORGANIC VEGETABLE GLYCERIN, ALOE VERA LEAF JUICE, COLLOIDAL ZINC, HYDROGEN PEROXIDE, XYLITOL, MENTHA PIPERITA (PEPPERMINT) ESSENTIAL OIL, YUCCA SCHIDIGERA, ORGANIC QUILLAJA SAPONARIA MOLINA, MENTHA ARVENSIS (CORNMINT) ESSENTIAL OIL, ORGANIC SENEGAL ACACIA POWDER (ACACIA GUM), ORGANIC CYAMOPSIS TETRAGONOLOBA (GUAR GUM), MENTHA SPICATA (SPEARMINT) ESSENTIAL OIL, GAULTHERIA FRAGRANTISSIMA WALL (WINTERGREEN) ESSENTIAL OIL, ORGANIC MENTHOL CRYSTALS, EUCALYPTUS DIVES (EUCALYPTUS PEPPERMINT), GLYCYRRHIZA GLABRA (LICORICE ROOT) CO2, COMMIPHORA ABYSSINICA (MYRRH) CO2, KRAMERIA LAPPACEA (RHATANY ROOT) OCIMENE, NEROLIDOL, MELALEUCA ALTERNIFOLIA (TEA TREE) ESSENTIAL OIL, CURCUMA LONGA (TURMERIC) CO2, MYRISTICA FRAGRANS (MACE) CO2, SYZYGIUM AROMATICUM (CLOVE BUD) CO2, THYMUS VULGARIS (THYME)
CO2, ORIGANUM VULGARE (OREGANO) CO2

Say goodbye to bad breath and poor oral conditions with Restorative Mouth rinse. Perfect for the whole family. Complete with 18 botanical extracts, ocimene & nerolidol (powerful plant terpenes), colloidal silver & zinc (tongue & mouth harmonizers), Australian Tea Tree (micro biotic control), aloe vera (cellular regeneration), xylitol (plaque control), as well as other beneficial ingredients. you can use it anytime as a midday refresher or after brushing as a final step to a complete oral cleansing routine.

<b>Due to the natural ingredients used, we do not use any synthetic emulsifiers to bind the pure botanical oils in the mouthwash. Therefore, be sure to vigorously shake for 5 seconds before every use to disperse the oils. </b>Do not swallow. For best results use with our Living Crystals Toothpaste for a powerful combo & start enjoying the joys and rewards that come with a super clean mouth.
Q: <b>Should I use Restorative Mouth Rinse before brushing or flossing?</b><br/><br/>
A: You can use Restorative Mouth Rinse as a pre brushing/flossing to dislodge hard to reach food particulates which will make brushing more efficient. Or you can rinse after flossing and brushing. <br><br>

Q:<b> How often should I use Restorative Mouth Rinse?</b><br/><br/>
A: Depending on the state of your oral hygiene, we recommend twice daily unless otherwise stated by your dentist.
<br><br>
Q:<b> How long should rinse for?</b><br/><br/>
A: This is entirely up to your discretion, although rinsing for a minimum 10 seconds is ideal in order to give the ingredients enough time to promote wellness and flush out particles.
<br><br>
Q:<b> Can Restorative Mouth Rinse replace brushing?</b><br/><br/>
A: Unfortunately, no. As therapeutic as Restorative Mouth Rinse is, nothing works better at throughly cleaning teeth as brushing and flossing does. Our rinse is more of a finishing step for that extra clean approach.
<br><br>
Q: <b>I just had an oral procedure, can I use Restorative Mouth Rinse?</b><br/><br/>
A: The ingredients in Restorative Mouth Rinse are very powerful healing agents and as such depending on your oral procedure, it would be best to consult with your dentist to avoid any irritation to sensitive new wounds.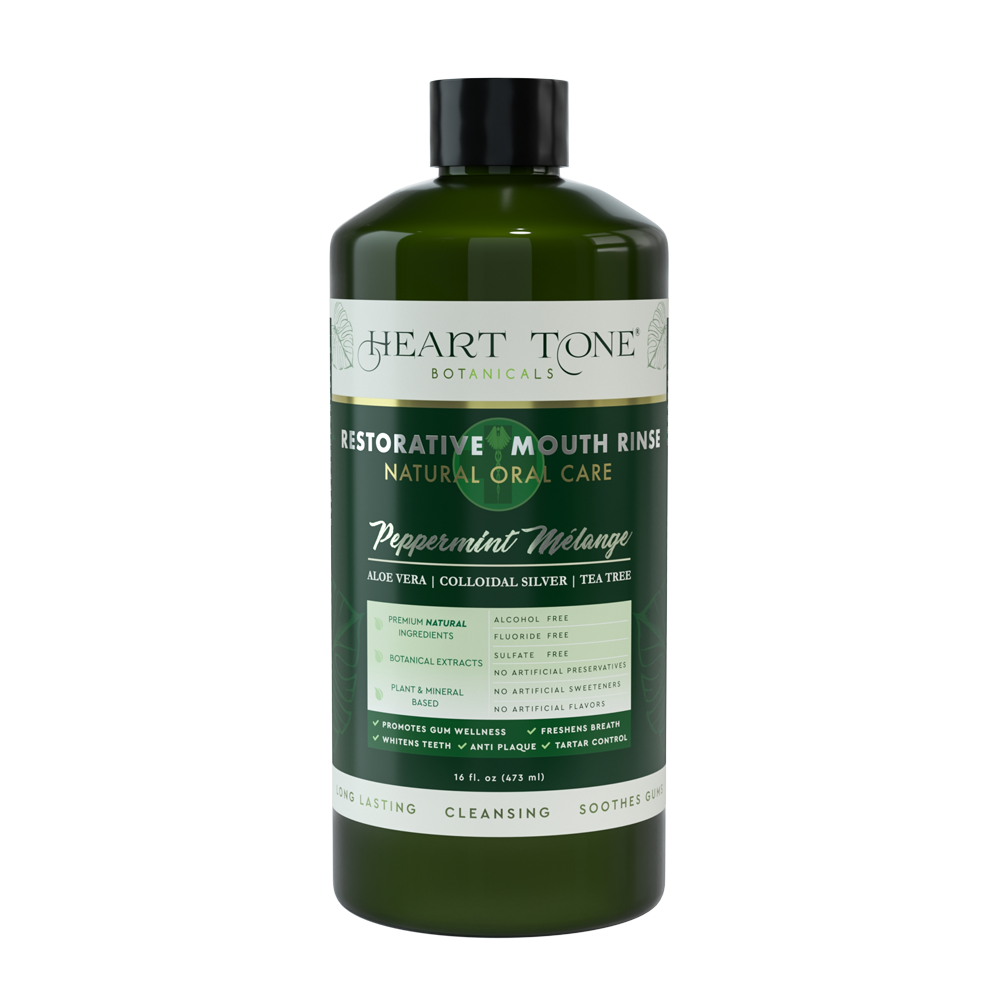 Wow Now that is Fresh!
Thank you for such an awesome clean and refreshing the whole mouth product! Now I can take on the Morning with confidence! Thanks Heart Tone!
This mouthwash is absolutely the best!
I have been suffering receding gums for a while , and it was so bad that I end it up losing one tooth. I started using this mouthwash as a pulling for 15 minutes each time everyday and after a month of constant using , I already noticed my receding gums getting smaller and smaller.
I would say now , after around 2 months using it , my gums are totally healed.
I love their toothpaste also, it has helped a lot too.
Great combo!
Healing and super clean mouth, teeth and gums❤️
Thank you Jonathan and Christine for creating amazing products that are free from chemicals, and all natural
This is the best mouth rinse
I have been using this mouth rinse for about 2 weeks now and I am starting to see great things happen to my mouth! My breathe is so much fresher now and my teeth are starting to feel so much stronger and much more whiter than what they were! This mouth rinse is definitely worth adding to you daily routine. You will be glad you did!
Former Dental Hygienist
This is not just mouthwash! Because it's PH balanced and loaded with all natural aromatic herbs & colloidal silver, it's truly restorative. No more harsh, burning mouthwash for me! Some things are worth spending money on and oral health is definitely one of them.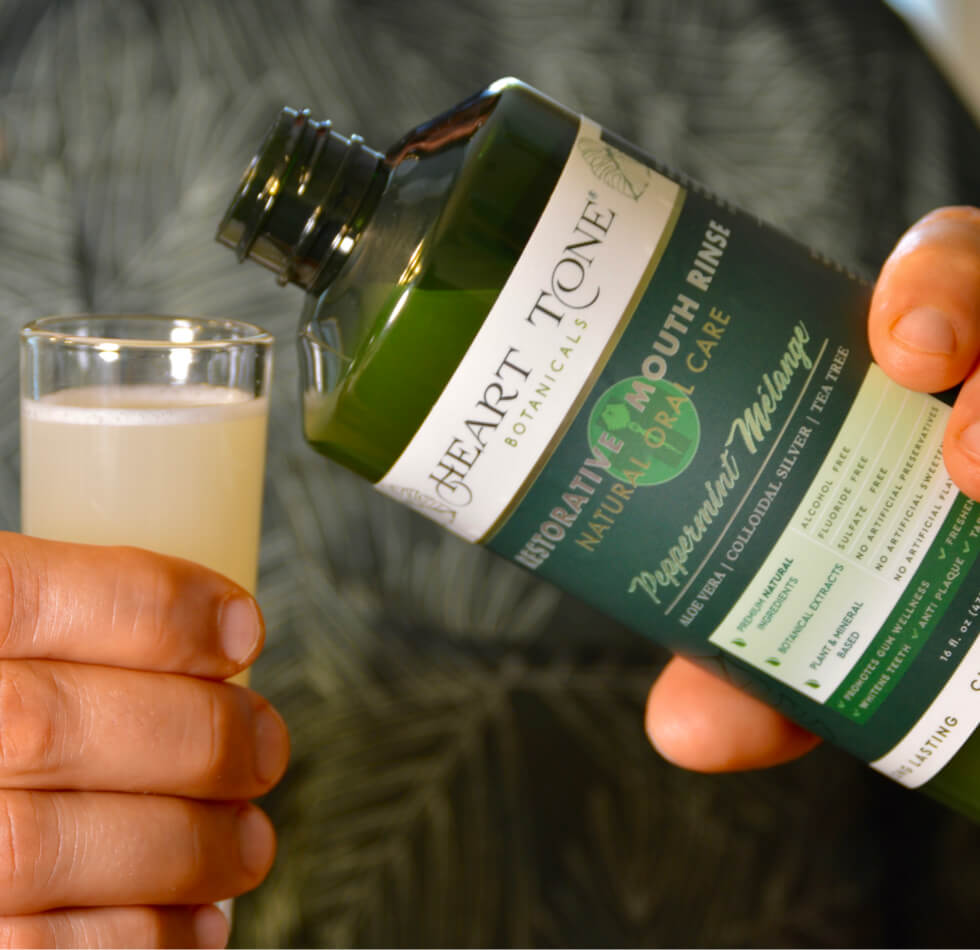 A THRIVING BODY STARTS WITH A HEALTHY MOUTH 
The world's best natural Fluoride Free and pH Balanced Mouthwash. A perfect blend of 18 aromatic herbs and colloidal silver to revitalize, rejuvenate and restore natural balance to your mouth. Formulated to support your own natural oral microbiome. Flush, cleanse and deodorize your mouth anytime of the day with our natural mouthwash. Removes trapped food particles from teeth and gums, a refreshing formula to clean your entire mouth. Our natural mouthwash is alcohol free so say goodbye to dry mouth. An invigorating follow up to our Living Crystal Natural Toothpaste to complete your oral care routine. Take back control of your oral health today!
     BOOST PERFORMANCE WITH DYNAMIC INGREDIENTS IN THE BEST NATURAL TOOTHPASTE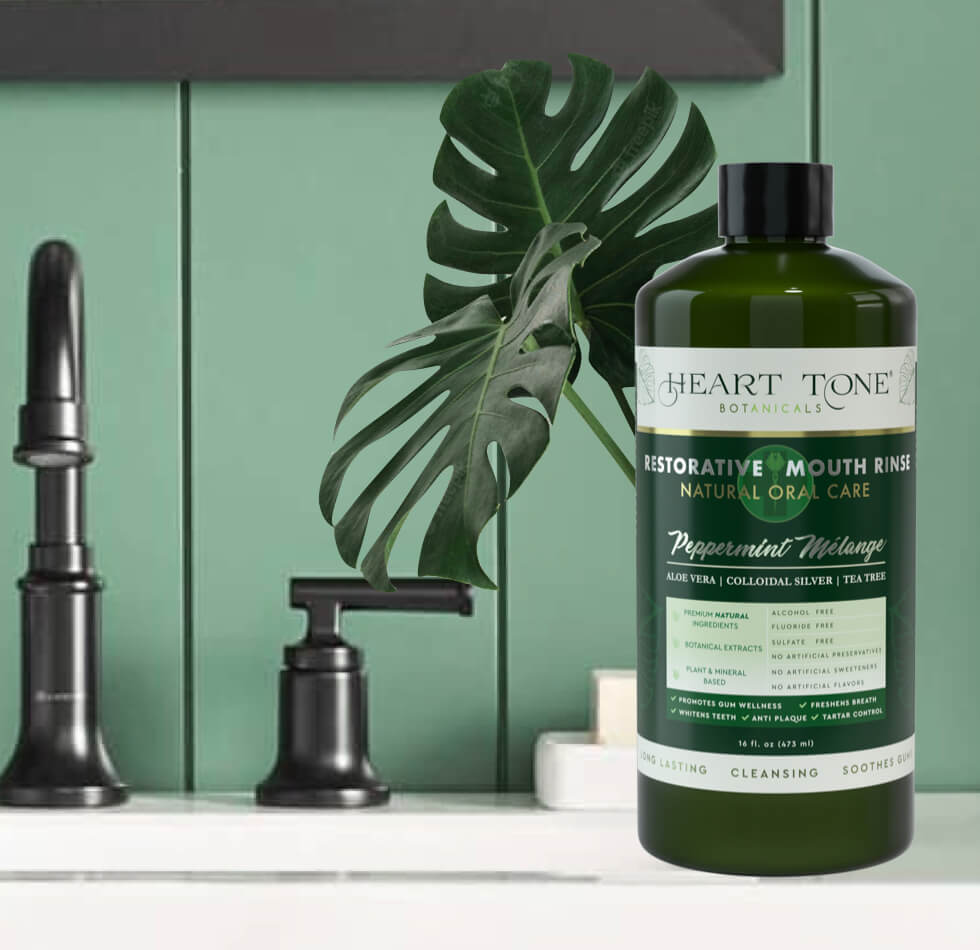 18 BOTANICAL EXTRACTS
Natural Restorative Mouth Wash and Rinse Harnesses the power of plant based natural and organic ingredients to formulate a perfect blend of aromatic herbs that revitalize, rejuvenate and restore balance to your mouth naturally.
POWERFUL CO2 PLANT EXTRACTS AND TERPENES
Natural Restorative Mouth Wash and Rinse uses the highest quality Co2 extracts. Extracted with cold Co2 gas (Carbon Dioxide), this is the purest and gentlest way of making Botanical Extracts without the use of either heat or solvents. This extraction method creates a highly potent and concentrated whole plant spectrum extract, which includes the Essential Oil as well as the fat-soluble and water-soluble substances not normally extracted with other conventional methods. Co2 extraction is a far superior method above all others producing a more effective extract.
OCIMENE & NEROLIDOL
Potent and effective plant derived terpenes that have many beneficial oral care qualities.
PH BALANCED FOR TOTAL DENTAL HYGIENE
Natural Restorative Mouth Wash and Rinse is not only refreshing, but one minute of gargling also reduces swelling and flushes out irritants and helps to restore mouth pH. By naturally maintaining your mouth's pH you can restore the microbiome in your mouth and revitalize your teeth and gums. Having either a to acetic or to alkaline pH environment can cause enamel and tooth damage over time. It is important to the over all oral health to maintain pH balance in your mouth. Many conventional mouthwashes on the market today do not address this issue therefore causing sensitivity issues and even worse. Our Restorative Mouthrinse is always perfectly pH balanced. 
ALCOHOL FREE NON DRYING NON STAINING MOISTURIZING Our All Natural Restorative Mouth Wash and Rinse is ideal for daily rinsing. Alcohol free and made with only natural and organic ingredients that are designed to moisturize and nourish your mouth rather than leaving it tight, stinging and dry.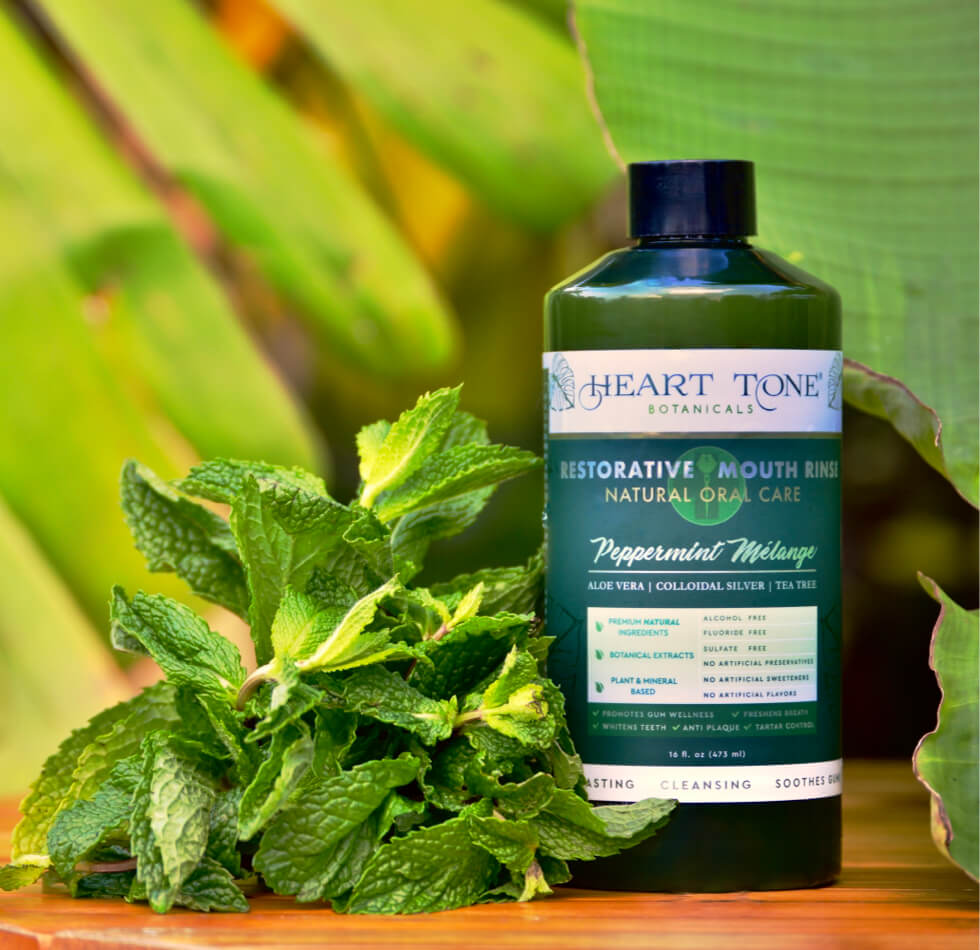 BENEFITS OF OUR MOUTH RINSE 
• NON DRYING
• PH BALANCED 
• ENAMEL SAFE
• NON TOXIC
• FIGHTS PLAQUE 
• CONTROLS TARTAR 
• FRESHENS BREATH 
• RESTORES BALANCE 
• CALMS INFLAMED GUMS
• DISCOURAGES CAVITIES 
• WHITENS TEETH NATURALLY
• PROMOTES ORAL WELLNESS 
FLUORIDE FREE - NO TOXIC CHEMICALS
Restorative Mouthrinse is formulated for you, your family, and our planet. Our Restorative Mouth Rinse is made to meet the needs of the most health conscious individuals. Never any Fillers and Does not contain any of the following Fluoride, Alcohol, Artificial colors/dyes, paraben's, synthetic preservatives,  petroleum and or petrochemicals, Propylene Glycols (PG) or Polyethylene Glycols (PEG), Propendiol, Petrolatums, Paraffins, phthalates, Phosphates, Sodium Phosphates, Disodium Phosphates or Trisodium Phosphates, Foaming agents such as, Sodium Laurel Sulfates (SLS), Sodium Laureth Sulfates (SLES), or ammonium laureth sulfate (ALS), and Triclosan.  
FLUORIDE FREE
NEVER ANY FILLERS 
ALCOHOL FREE 
SULFATE FREE (SLS & SLES) 
GMO FREE
PETROCHEMICALS (PG & PROPENDIOL)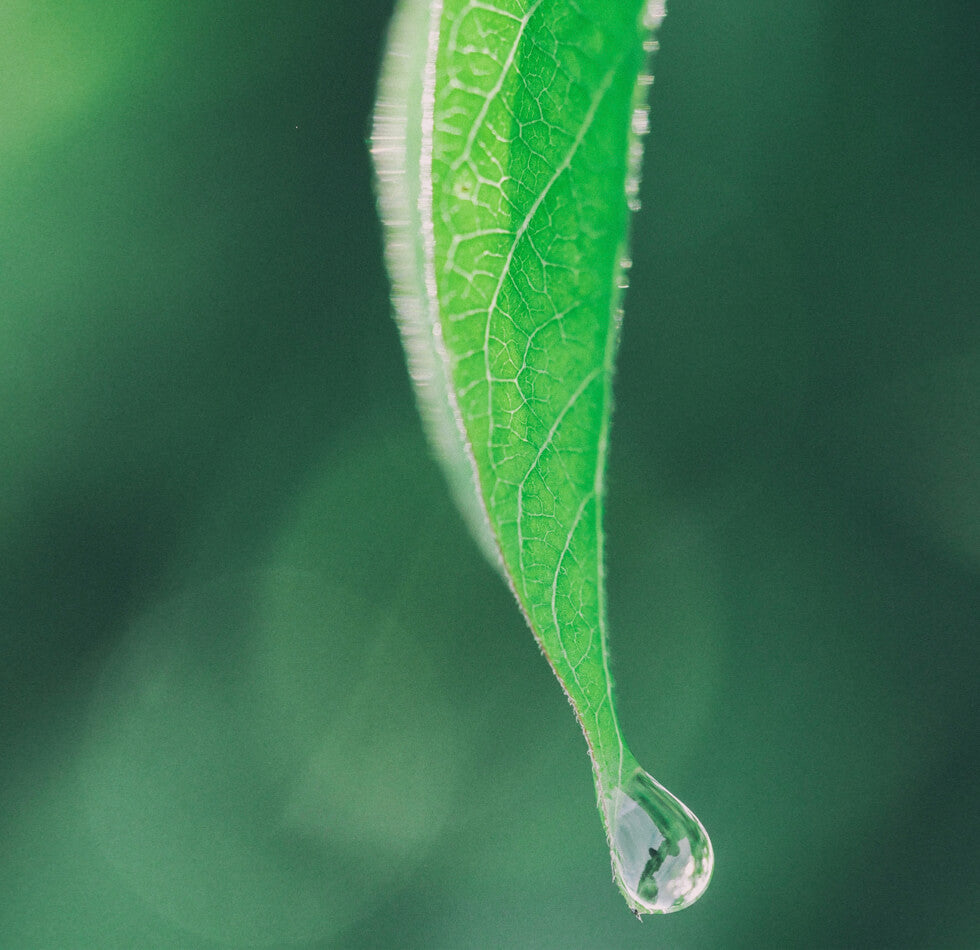 FRESH BREATH NATURALLY
Natural Restorative Mouth Wash and Rinse will revitalize your breath with a cool, exhilarating blast of American grown mints. Freshen your breath instantly, without leaving it dry and sensitive. Using Natural Restorative Mouth Wash and Rinse regularly will fight bad breath and whiten teeth naturally with plant based ingredients.
• TEA TREE - Plant Based
• CLOVE - Plant Based
• CORN MINT - Plant Based
• SPEARMINT - Plant Based
• MENTHOL - Plant Based
• PEPPERMINT - Plant Based
• EUCALYPTUS PEPPERMINT - Plant Based
• WINTERGREEN - Plant Based 
NATURAL GUM REVITALIZERS 
Gums are comprised of a soft tissue which covers and protects the bones of your mouth. This tissue forms a tight seal around the teeth to keep them in place and provide a barrier against contaminants. Without the correct gum care, food particles can find their way in and around your teeth, which eventually leads to gum disease.
Our natural mouthwash contains plant based revitalizers that help to restore resilience back to the gums while removing trapped food particles from them.
• ALOE VERA - Plant Based
• YUCCA SHIDIGERA - Plant Based
• LICORICE ROOT - Plant Based
• OCIMENE - Plant Based 
POWERFUL HERBAL CLEANSERS
Essential oils have been used for centuries dating all the way back to 2000 BC and have stood the test of time. Our natural mouthwash incorporates some of the most potent oral cleansing plant oils avaiable today.
• TEA TREE - Plant Based
• CLOVE - Plant Based
• OREGANO - Plant Based`
• TURMERIC - Plant Based
• THYME - Plant Based
• MACE - Plant Based 
MICROBIOME PLAQUE CONTROL 
Natural Restorative Mouth Wash and Rinse promotes the control and removal of plaque and therefore supporting the oral microbiome with plant based oils. 

• NEROLIDOL - Plant Based
• XYLITOL - Plant Based
• MYRRH - Plant Based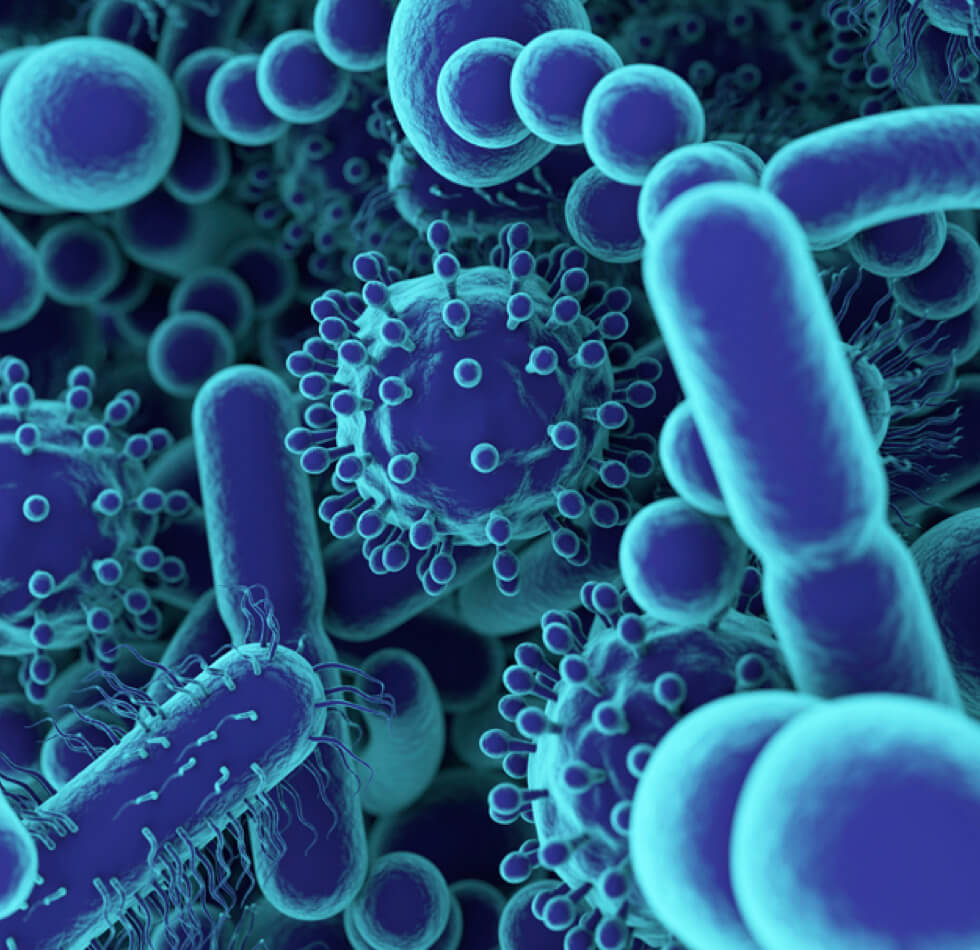 History of Silver 
THE SILVER BULLET 
Restorative all natural Mouthrinse uses electronically charged micro silver particles suspended in pure distilled water to harmonize the oral micro-biotic environment. 
Silver has been used medicinally throughout antiquity for more than 2,000 years. Ancient civilizations learned that silver possessed powerful preservative like effects and would store wine & water in silver vessels to prevent spoilage. 
Hippocrates, the "father of medicine," wrote in his medical texts that silver had many beneficial medicinal properties, and he praised silver for its remarkable abilities.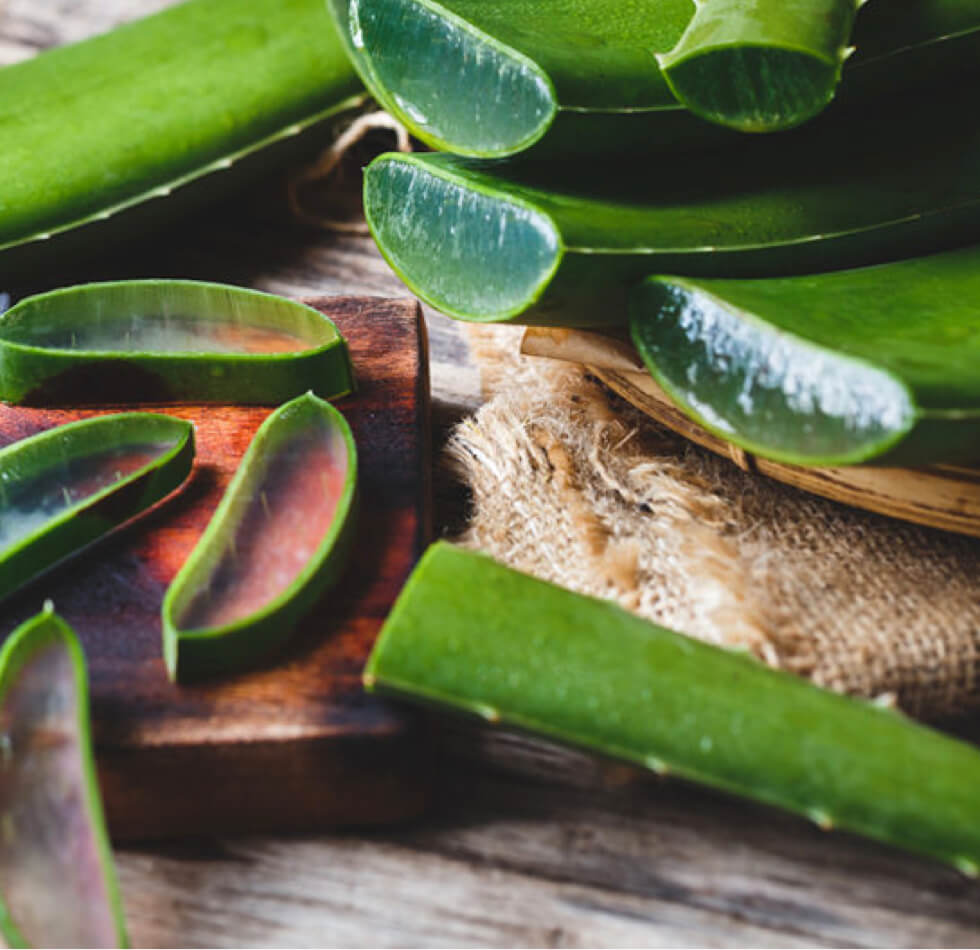 History of Aloe 
THE MIGHTY ALOE LEAF 
Aloe is hailed as being the most important healing plant of all. Known for it's many benefits & incredible ability to support healing throughout the human body. Going back to biblical times aloe was employed as an embalming ingredient. In the Gospel of St. John (19:39-40), the body of Christ was wrapped in linen and a mixture of myrrh and Aloe. It was issued to Roman soldiers on the battle field for wound care. The ancient Chinese regarded aloe as the "plant of immortality" for it's synergistic and health enhancing effects on and in our bodies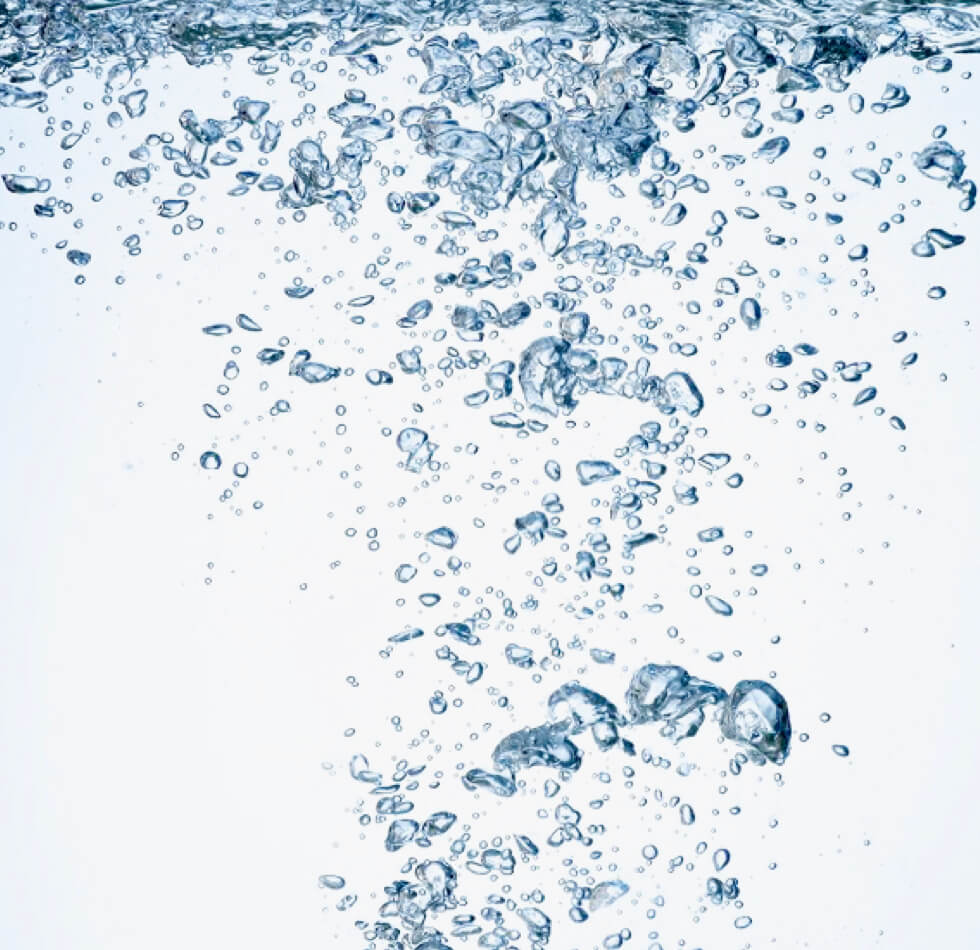 OXYGEN TO THE RESCUE 
Hydrogen peroxide is nature's oral debriding agent that supports wound healing & inflammation of the gums. Oxygenate the whole oral environment & bring deep cleansing bubbles in between the gums while whitening teeth all on one!