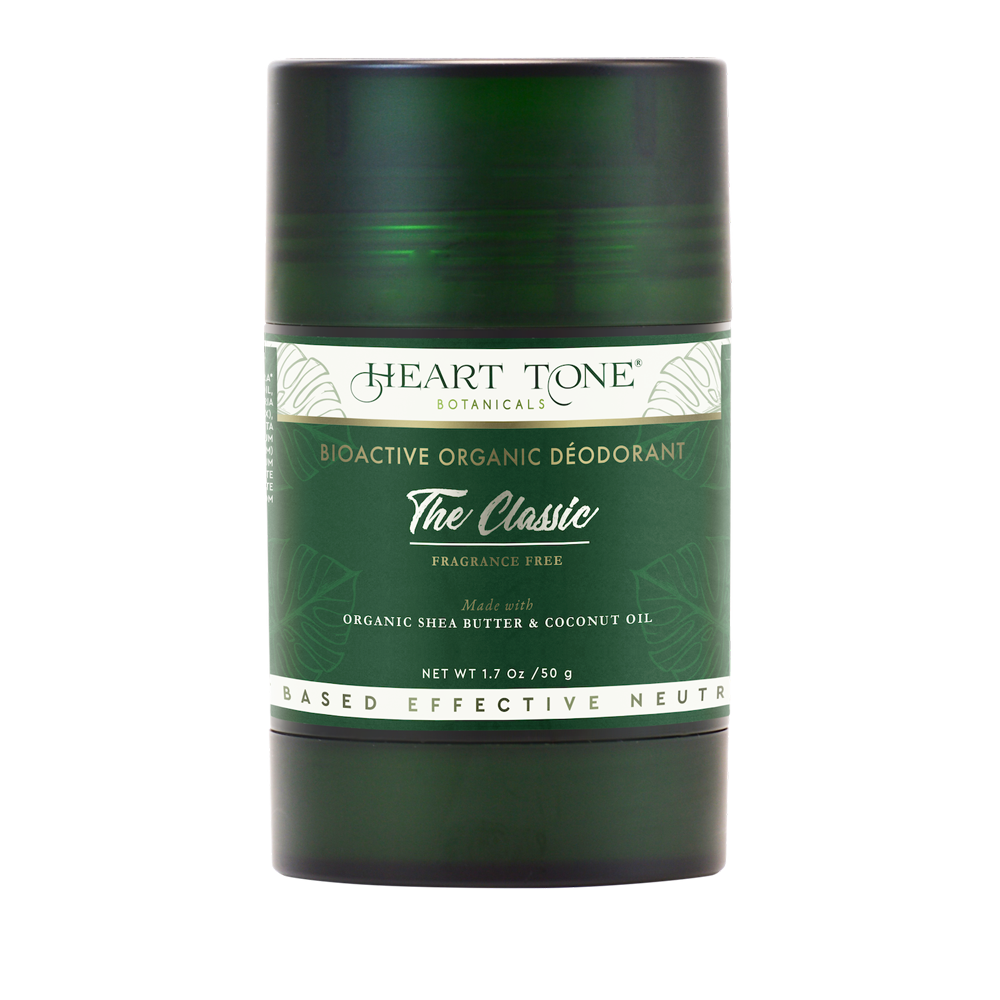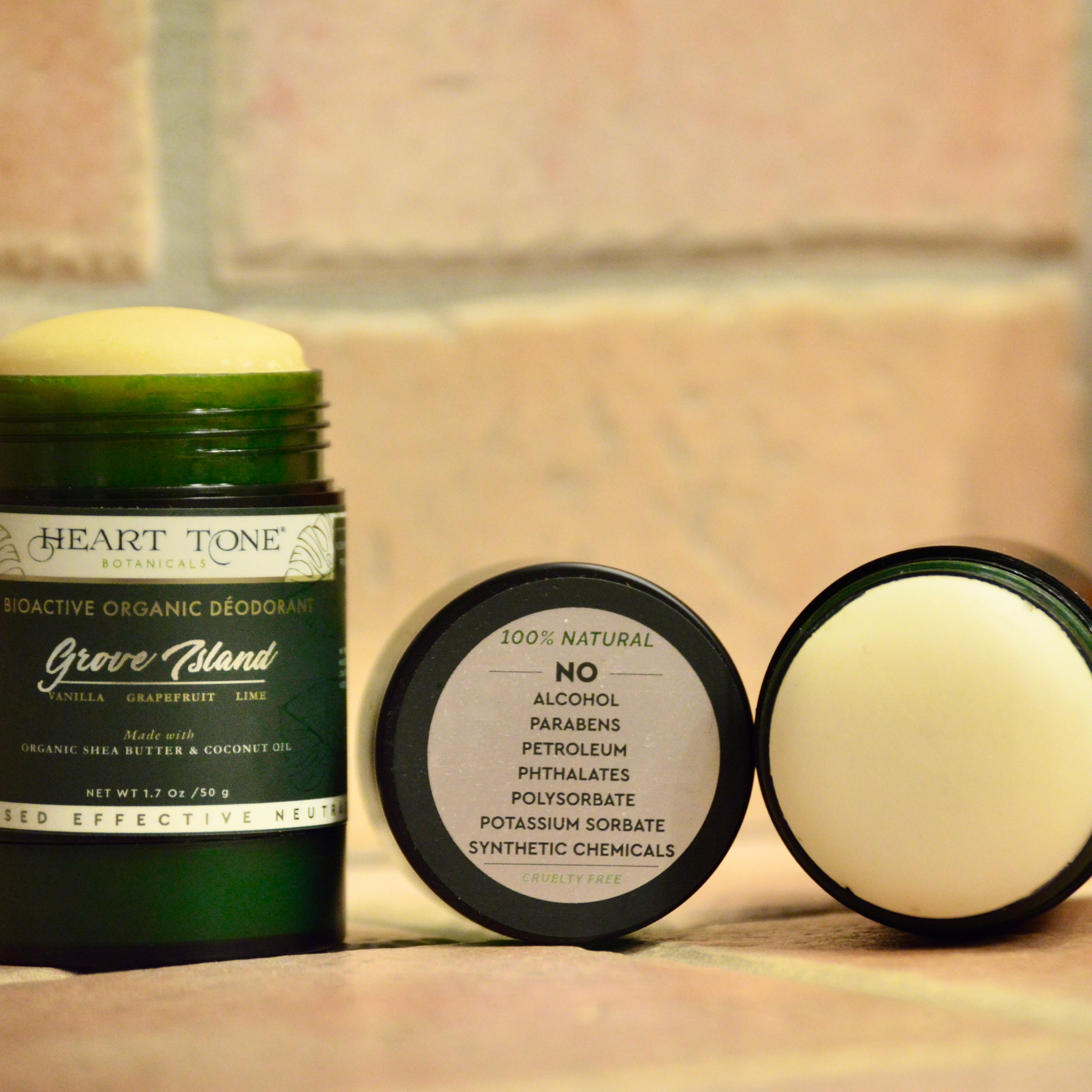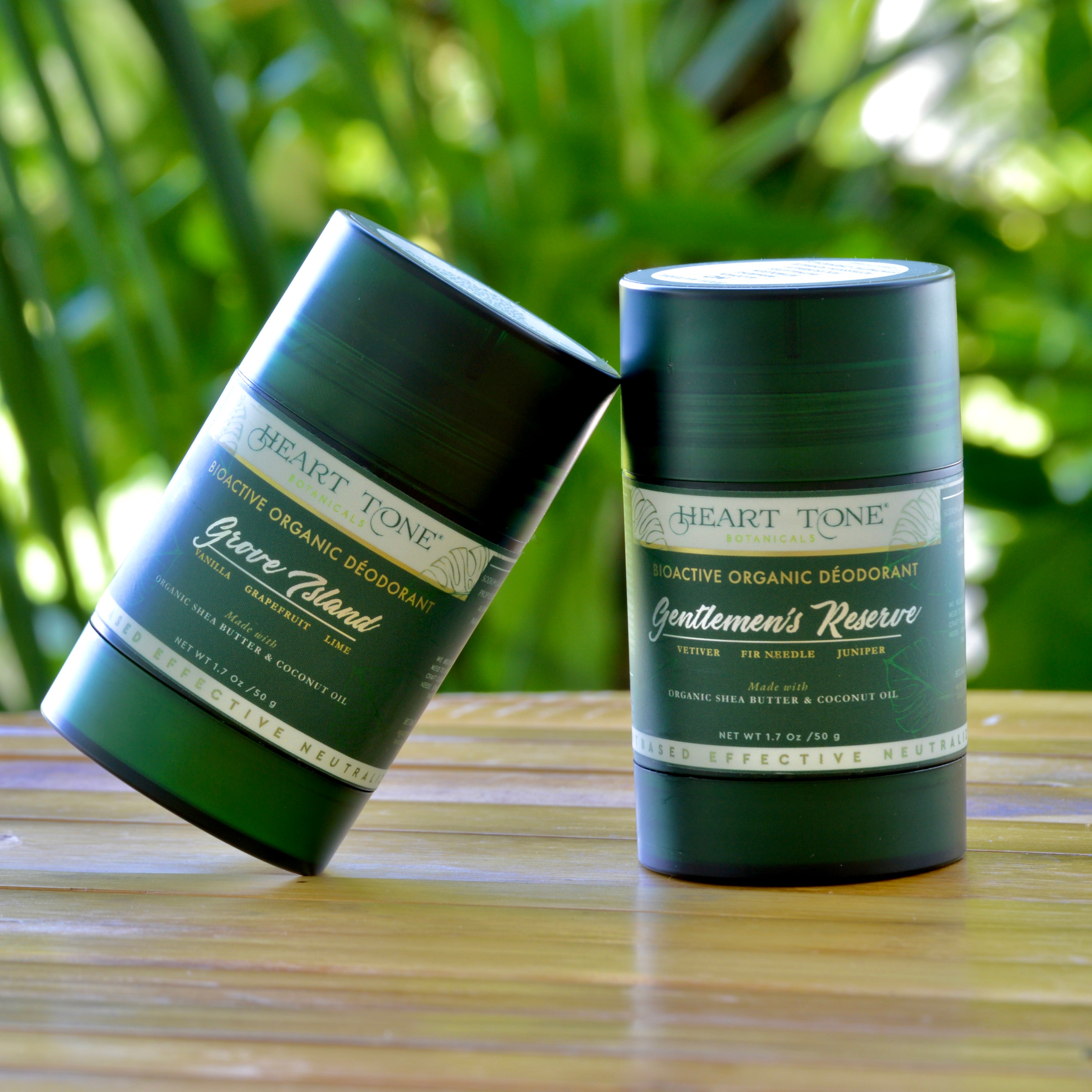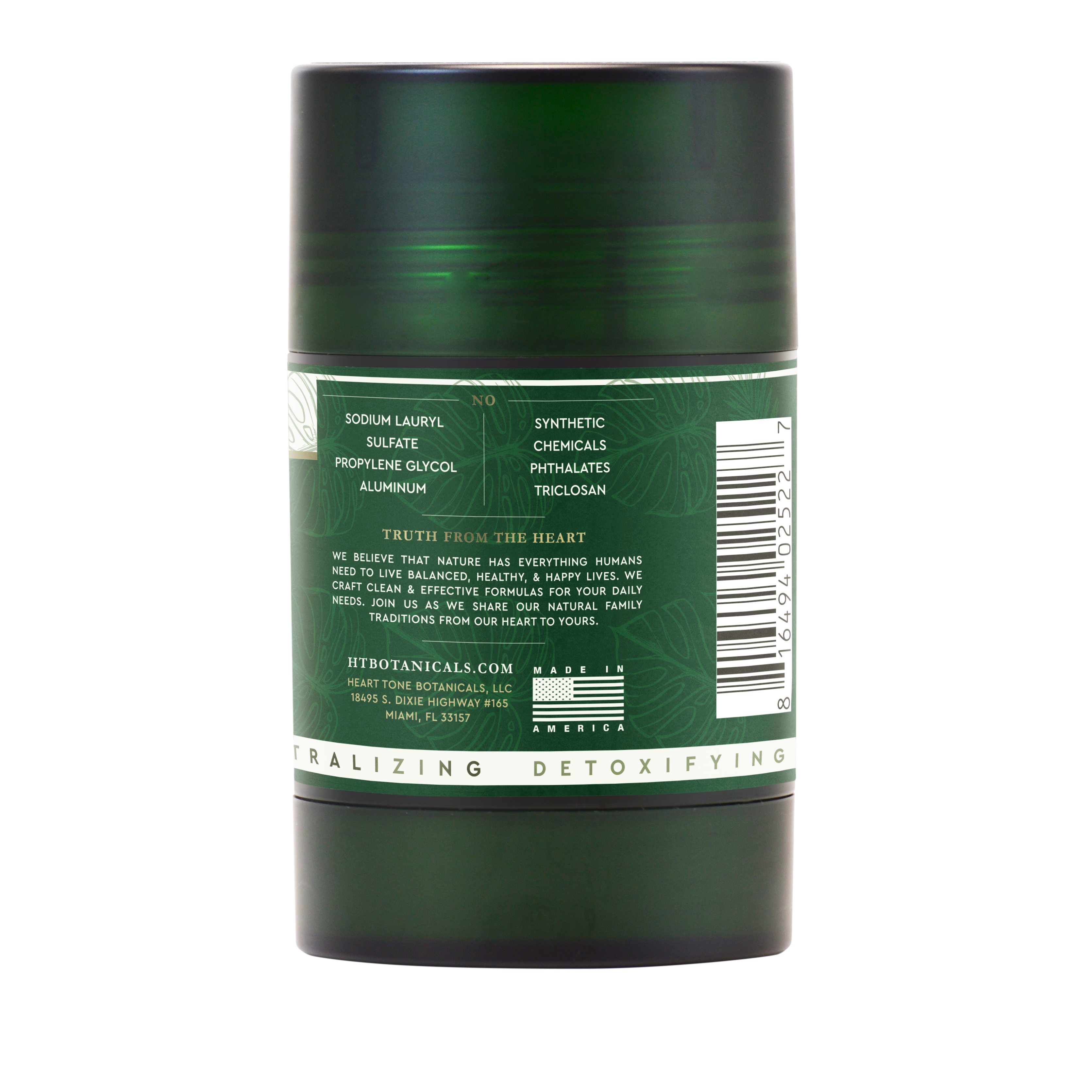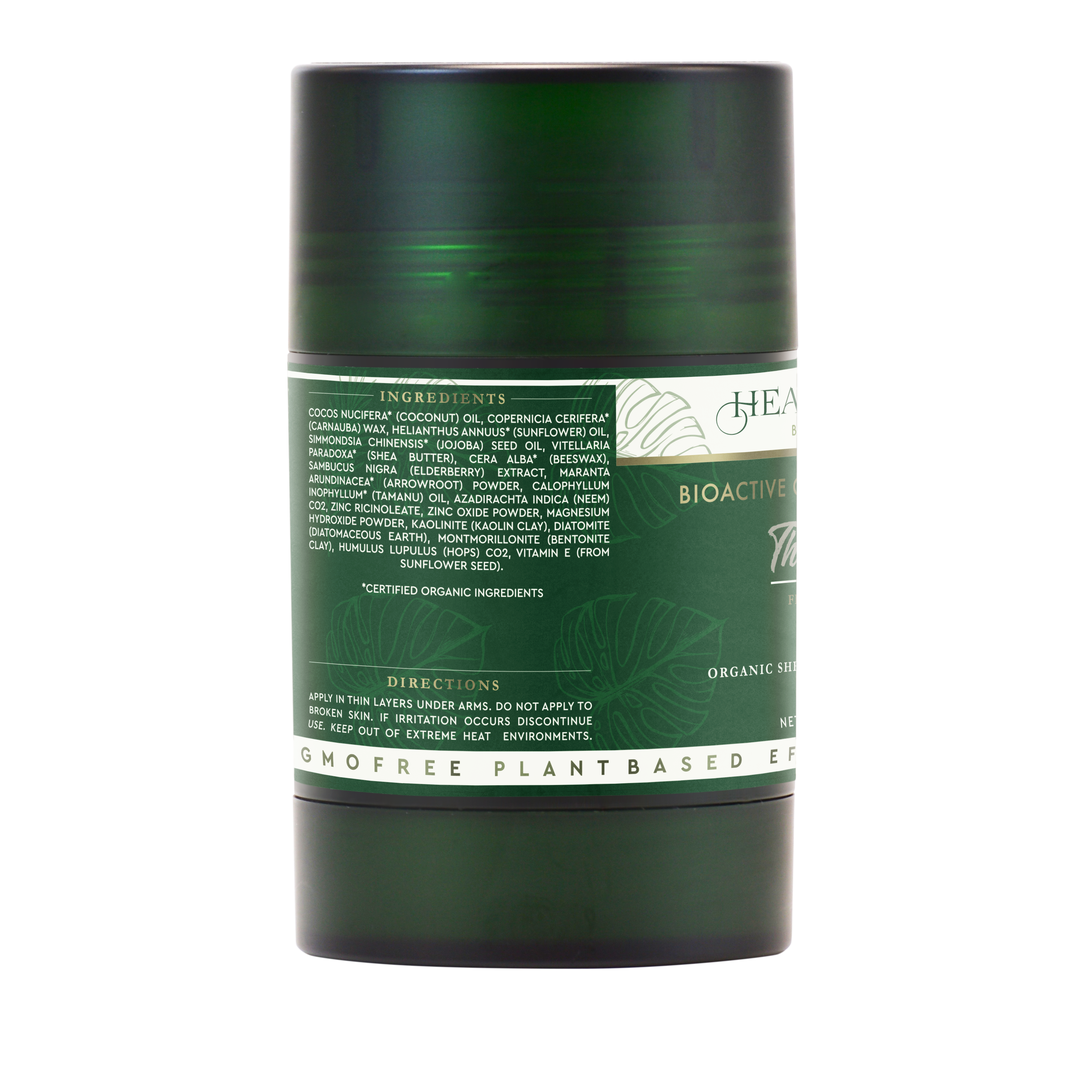 Bioactive Deodorant The Classic
---
You've tried the rest, now put ours to the test! 

A trully natural deodorant that works. Our prized deodorants haven't met a single pit they couldn't neutralize.
Get high performance odor control that can handle any challenge. Our deodorants are non-chalky, non-pasty, non-sticky & non clumping. Gain outstanding & long lasting protection without the irritation, toxins, or synthetic fragrance.
FRAGRANCE FREE

Sensitive to scents or allergic to fragrances? The Classic offers superb protection & feel with a neutral aroma.

COCOS NUCIFERA* (COCONUT) OIL, COPERNICIA CERIFERA* (CARNAUBA) WAX, HELIANTHUS ANNUUS* (SUNFLOWER) OIL, SIMMONDSIA CHINENSIS* (JOJOBA) SEED OIL, VITELLARIA PARADOXA*, CERA ALBA* (BEESWAX), SAMBUCUS NIGRA (ELDERBERRY) EXTRACT, MARANTA ARUNDINACEA* (ARROWROOT) POWDER, CALOPHYLLUM INOPHYLLUM* (TAMANU) OIL, AZADIRACHTA INDICA (NEEM) CO2, ZINC RICINOLEATE, ZINC OXIDE POWDER, MAGNESIUM HYDROXIDE POWDER, KAOLINITE (KAOLIN CLAY), DIATOMITE (DIATOMACEOUS EARTH), MONTMORILLONITE (BENTONITE CLAY), HUMULUS LUPULUS (HOPS) CO2, VITAMIN E (FROM SUNFLOWER SEED).

*CERTIFIED ORGANIC INGREDIENTS
BENEFITS
As you begin your journey of switching to organic ingredients in your deodorant, it's normal to experience a detoxing phase where it will appear as though the product might not be working. You might notice excessive sweating and/or stronger than usual body odors. This is due to the full on release of built up toxins that have been trapped in your sweat glands. Commercial deodorant brands use anti-perspirants that contain heavy metals such as aluminum or zirconium in their products because they block sweat glands and thus prevent sweating. This is harmful & counterintuitive to the body's natural detoxing mechanism. Sweating not only is the body's cooling system, although it serves a function of removing unwanted contaminants. Located deep within the armpit are axillary lymph nodes. The function of the axillary lymph nodes, like that of the rest of the lymphatic system, is to defend against foreign particles, provide immunity against microorganisms, and return excess interstitial fluid back to the systemic circulation. Clogging your pores with anti-perspirants not only stops the axillary lymph nodes from draining the detox cycle, but also adds toxins such as aluminum & triclosan back into your body. The axillary lymph nodes are of particular clinical significance as they are often the first site of breast cancer metastasis. Since Bioactive Organic Deodorant doesn't contain any anti-perspirants or aluminum your body can continue the detox phase and should normalize within 1-2 weeks of use.

STAY DRY NATURALLY
We use arrowroot powder that comes from the rhizomes of a plant to help keep you dry. Arrowroot powder helps with sweat by not blocking it, but instead absorbing it. Keep in mind because your pores are still open that they still need to drain sweat therefore, you won't get the total toxic & harmful pore blocking effects of industrial aluminum, although arrowroot will help wick away the moisture.

DISTINCTITIVE & SIGNATURE SCENTS
We spared no expense at sourcing the highest quality & most unique botanical extracts in order to bring our craftsmanship to life. As artisans, our scents needed to be equally as special as the blends themselves.

LONG LASTING SAVINGS
Our deodorants are concentrated & one stick can last two months with once daily use!
Q: I have sensitive skin. Will the deodorants cause me to break out?
A: No they shouldn't. We have purposefully eliminated known irritants often found in natural deodorants such as sodium bicarbonate (aka baking soda) and ozokerite. We also don't use any heavy metals such as aluminum or synthetic anti-microbials such as triclosan. If you are concerned that our botanical ingredients might cause an allergic reaction then it's always best to perform a spot test before use.

Q: I work outdoors & every natural deodorant has failed to neutralize my body odor. How do I know yours works?
A: Great question & believe me, we've been there once upon a time which is what prompted us to make our very own! As farmers & all out plant enthusiasts, we spend an enormous amount of time working the land, tending to our plants, harvesting, & working on soil regeneration projects which makes for a good amount of sweating. Being that we're located in South Florida, that add's extra humidity so if our deodorants can pass our work load along with the work load of delivery workers, construction personnel, athletes, fishermen, landscapers & so many more laborious professions, then we're certain they can work for you!

Q: Is "The Classic" truly "Fragrance-Free"? A: Yes it is! It's as neutral as neutral gets.

Q: Can I get 24hr odor protection?
A: Yes you can!

Q: How long does a stick of deodorant last?
A: From our experience of once a day daily use, we have found that one deodorant stick can over a month!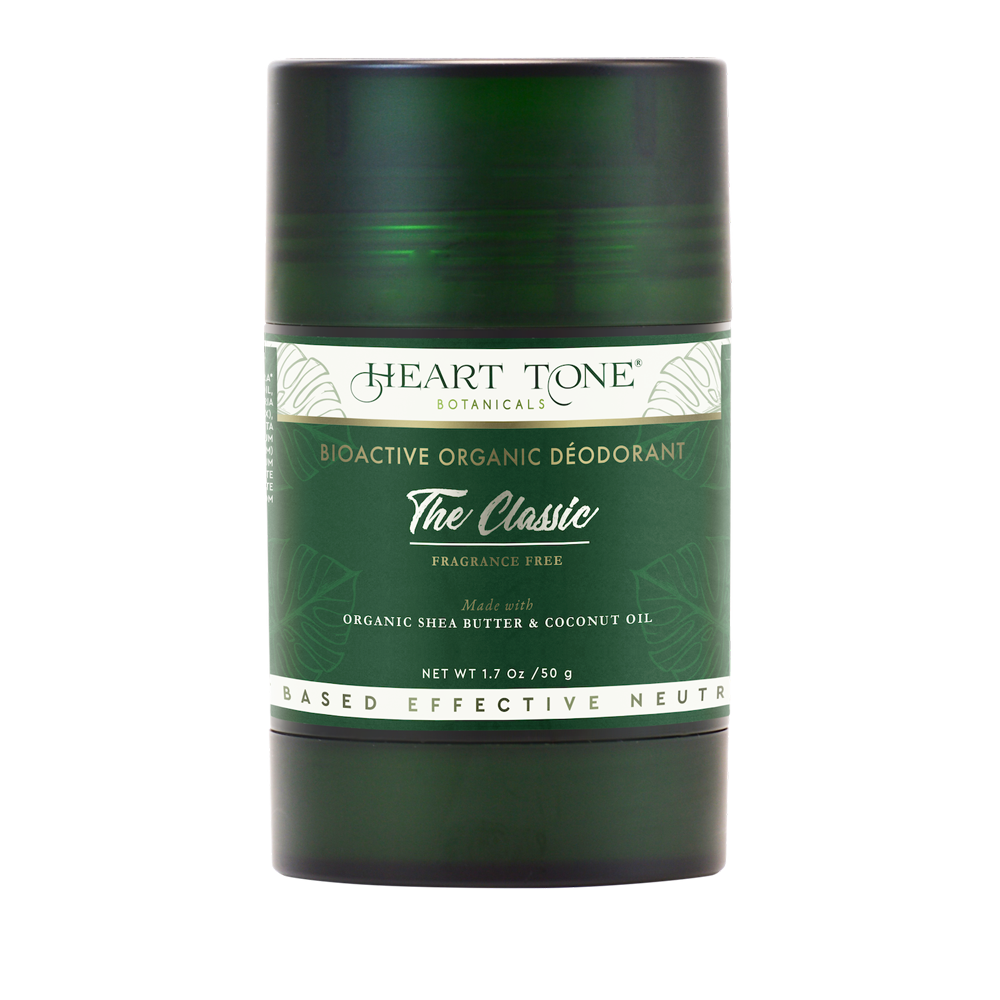 Love this product so much, 5 stars!!
Met the owner Johnathan yesterday, very genuine and humble person. Really went into depth about each product & answered all of our questions. My boyfriend and I will definitely be back. Love the deodorant and toothpaste, thank you Johnathan! :)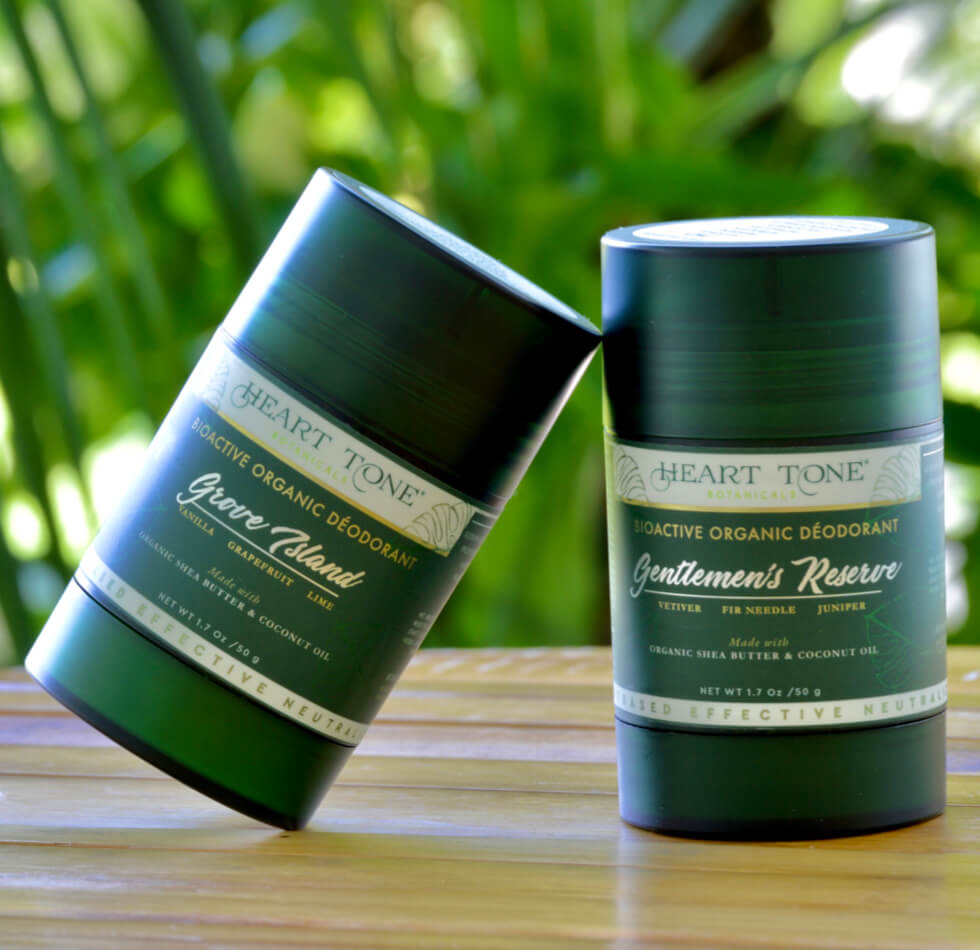 NATURAL DEODORANT GUARANTEED TO WORK
A truly efficacious collection of sophisticated natural deodorants made for the most discerning and conscious armpits. Introducing the world's best and most effective natural deodorant on the market today. Our Bioactive deodorant provides continuous all-day protection in one application with powerful plant botanicals such as Neem, Tamanu and Hops that work together in unison to stop odor at it's source before it starts. Essential earth minerals continue to provide lasting all day odor inhibiting compounds such as zinc ricinoleate, zinc oxide, and magnesium hydroxide. Cold pressed raw organic coconut oil, sunflower and jojoba make for a rich, creamy stick that glides on smoothly while helping to detox, nourish, and moisturize the skin. Get high performance odor control that can handle any daily challenge and gain outstanding all day protection without any of the irritation, toxins, or synthetic fragrance's that other deodorants are known for. This healthy long-lasting natutal deodorant is sure to keep you fresh all day long guaranteed.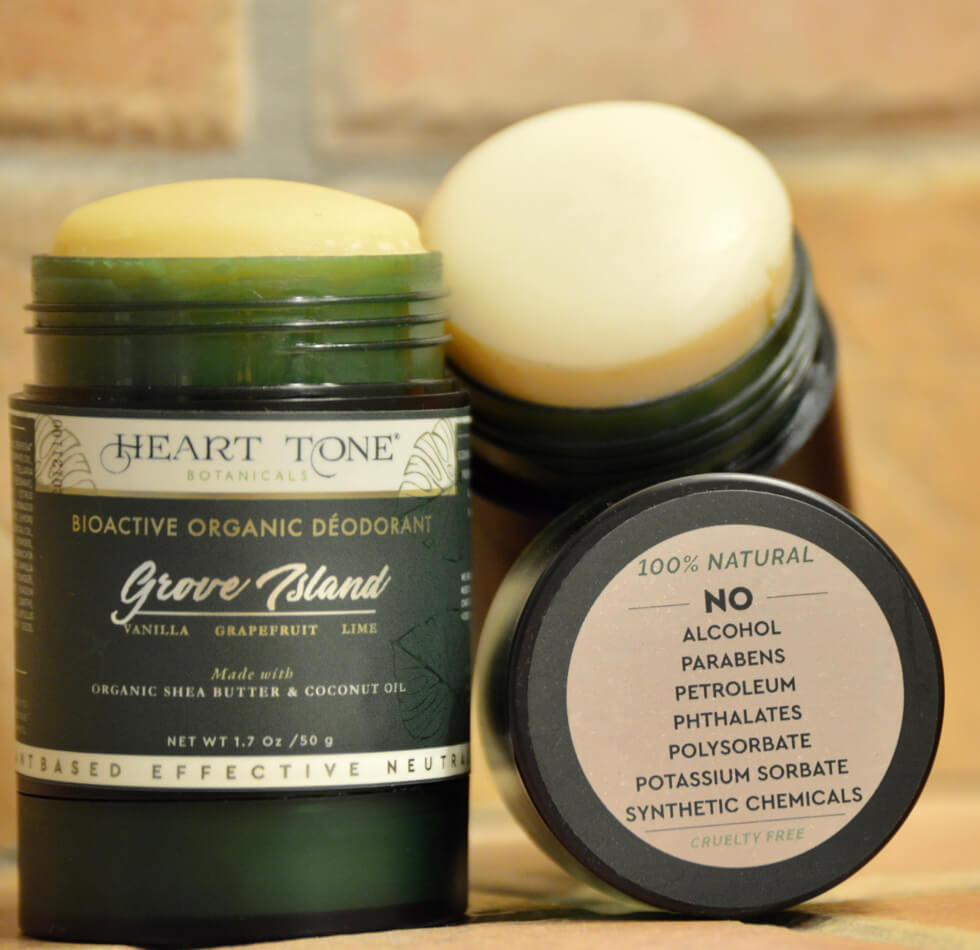 BENEFITS OF OUR DEODORANT 
• SILKY SMOOTH FEEL
• 24HR PROTECTION
• BOTANICAL EXTRACTS
• NEUTRALIZES ODOR
• SENSITIVE SKIN FORMULATED
• DOES NOT CLOG PORES
• DEODORIZES & MOISTURIZES
• SUPPORTS SWEAT GLAND DETOX
NO HARSH OR TOXIC CHEMICALS.
Safe for you, your family, and our planet. Our all natural Bioactive deodorant is formulated to meet even the most sensitive, conscious and discerning armpits. Never any fillers and free of aluminum, heavy metals, baking soda, ozokerite, Alcohol, artificial fragrance Parfum/Scents, Artificial colors/dyes, siloxanes aka silicones, paraben's, synthetic preservatives,  petroleum and or petrochemicals, Propylene Glycols (PG) or Polyethylene Glycols (PEG), Propendiol, Petrolatums, Paraffins, phthalates, Phosphates, Sodium Phosphates, Disodium Phosphates or Trisodium Phosphates, Sodium Laurel Sulfates (SLS), Sodium Laureth Sulfates (SLES), or ammonium laureth sulfate (ALS), and Triclosan.  
NO PETROCHEMICALS (OZOKERITE & PROPENDIOL FREE)
NO HEAVY METALS (ALUMINUM FREE)
NO GMO'S 
NO ARTIFICIAL FRAGRANCE PARFUM'S OR SCENTS
NO HARSH IRRITANTS (BAKING SODA FREE)
NO FILLER INGREDIENTS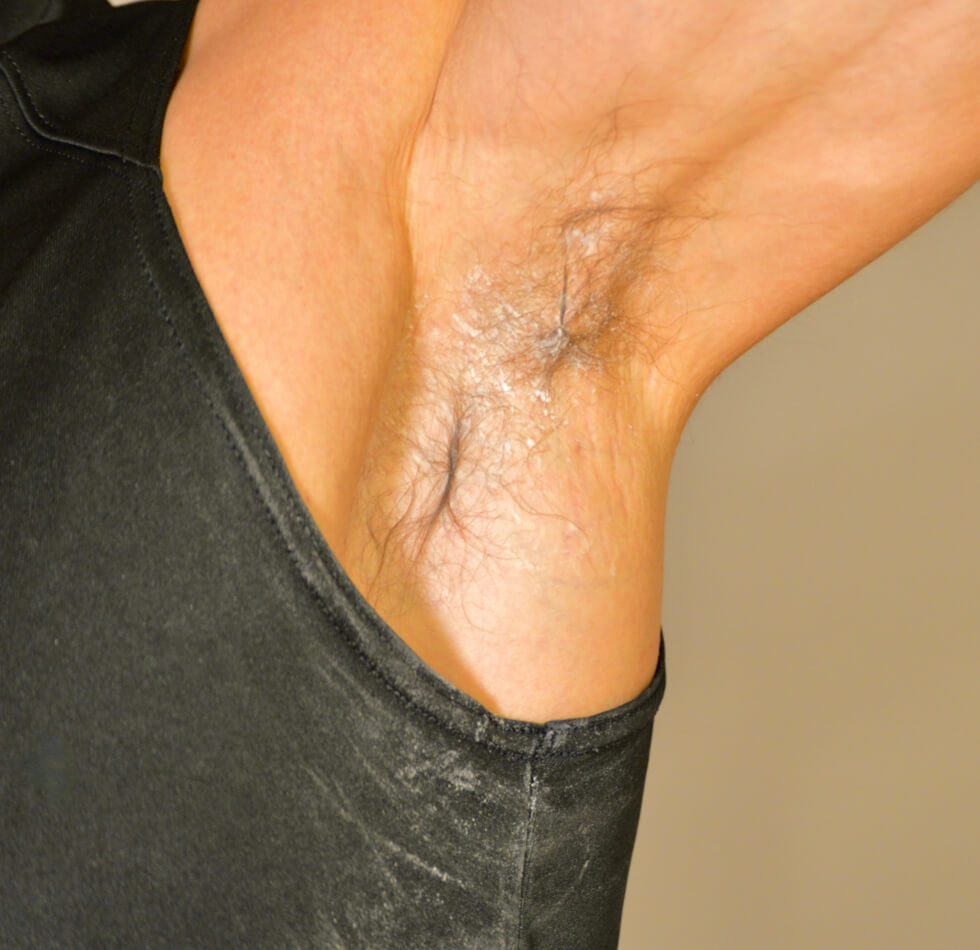 OTHER DEODORANTS 
Many deodorants on the market today contain toxic heavy metals like aluminum that are designed to block pores and inhibit the body's own natural ability to expel toxins. Company's often claim "natural" and opt to use Ozokerite and or Propendiol which are petroleum derrived petrochemicals/paraffin ingredients. Still the majority of products will use synthetic preservatives, silicones, fragrance/Parfum, or other harsh irritants like baking soda that dry, irritate, and disrupt the skin's microbiome.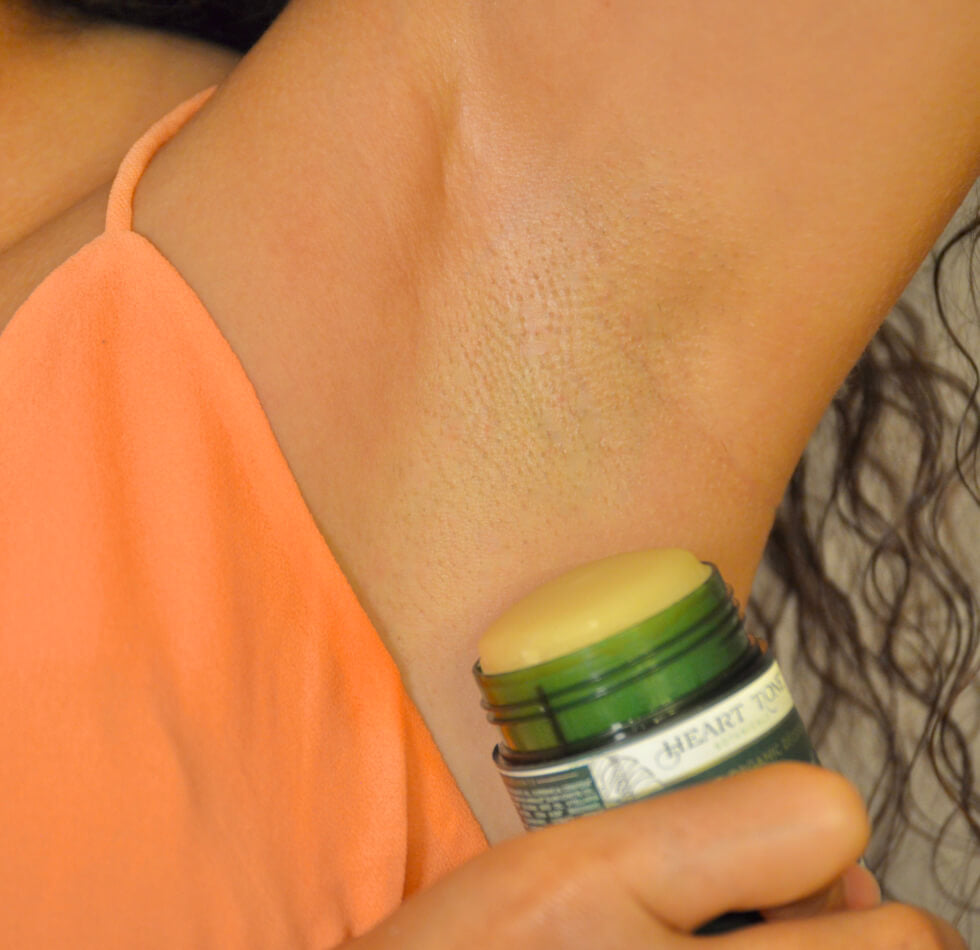 OUR DEODORANT 
HIGHEST QUALITY PREMIUM PLANT BASED ALL NATURAL AND ORGANIC INGREDIENTS NO FILLERS 24 HR PROTECTION
Natural Bioactive deodorant is sensitive skin formulated with clean ingredients that are gentle on skin and tough on odor. Our Bioactive deodorant is non pore clogging which allows the body to expel toxins naturally while absorbing moisture with arrowroot powder (from plants), kaolin clay (earth mineral) and diatomaceous earth (earth mineral). Naturally fragranced with powerful co2 plant extracts, terpenes, and essential oils that are amazingly rich with luxurious aromas. Handcrafted in small batches to ensure quality control.
• SMOOTH APPLICATION 
• NON PORE CLOGGING 
• NON CLUMPING 
• RESIDUE FREE 
• NON STICKY 
THE ALL OCCASIONS DEODORANT 
Strong On Odor, Gentle On Skin